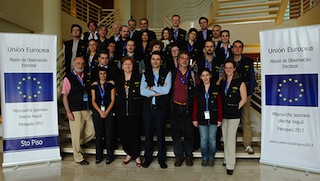 The election observers team of the European Union (EU) are due in Nigeria later this week, to assess the general election against national law and international principles for elections contained in regional and international law and standards.
According to a statement by the EU office on Tuesday in Brussels, said the election observer mission would be led by Santiago Fisas Ayxela, a member of the European parliament, from Spain.
It added that a delegation from the European parliament and EU diplomats in Nigeria would also join the mission on election days.
The Nigerian electoral commission has fixed Feb. 14 and Feb. 28 for the presidential and federal lawmakers' election, as well as the governorship and state legislators' election respectively.
The office said nine analysts of the core team had already arrived Nigeria since Jan. 6, in addition to the advance team that was deployed during the party primaries last November and December.
The statement said the EU was committed to the conduct of inclusive, transparent and credible elections in Nigeria, Africa's most populous nation.
"We do not just focus on the election days, but on all aspects of the electoral process, including the arbitration of petitions long after voting is finished," it said.
The statement said the election observation mission would conduct a comprehensive analysis of the entire electoral process.
It said it includes assessing the legal framework, the performance of the election administration, voter registration, candidates' nomination and political parties primaries, campaign activities, respect for fundamental freedoms.
It would also access to and conduct of the media, voting and the counting, the announcement and acceptance of results, and complaints and appeals.