Kazeem Ugbodaga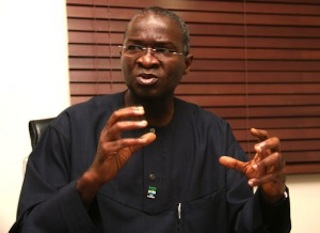 Lagos State Governor, Babatunde Fashola has unveiled platforms to raise funds for the presidential candidate of the All Progressives Congress, Major General Muhammadu Buhari.
At an event held at the State House, Marina, Lagos, Southwest Nigeria on Tuesday, Fashola said it was important to emphasize the intolerant disposition of the ruling Peoples Democratic Party to the opposition by informing the public that the party's domain name, which is www.apc.com.ng was momentarily tampered with by the federal government because they did not want the APC to use the internet to communicate.
"Regrettably but necessarily, we were compelled to registered a new name which they will have little control over. And that was www. APCGMBPYO.org. It will be the internet platform for this fund raising and other activities," he said.
Launching the fund raising campaign platform under the initials of General Muhammed Buhari and Professor Yemi Osinbajo, GMBPYO, the governor said one of the things Buhari said when his campaign started was that he desired to have a campaign that would involve ordinary people and that he was committed to transparent and accountable fund raising and management as this had been the key to designing this strategy.
"This campaign fund raising will be different from the ones that we are accustomed to. And this is part of the change that our party wishes to bring onboard. So, this fund raising has been designed to give everyone the opportunity to participate in effecting that change.
"We have seen the enthusiasm of young people to participate in this election, especially those who will be voting for the first time. Regrettably, a number of them have either been denied the opportunity to register or where they have registered, they are yet to receive their PVC.
"We also note the concern of Nigerians living abroad; many of them were forced to move abroad because of electricity, security and bad governance. We note their enthusiasm to participate even though their government is not effective enough to allow them vote abroad using available technology.
"Today, we unveil many platforms where those who can or cannot vote but want to participate in the February election can contribute to the Buhari/Osinbajo campaign. This campaign will need money as all other election. We are very clear on what we will be spending this money on," he explained.
The governor said the money would be spent on the payment of agent fees, getting the party's campaign message of change to the people through different media platforms, on transport cost for those who are engaged in the campaign.
He added that some part of the fund would be spent on printing of campaign materials, assuring that the fund would not be used to build a secretariat as all the money would go towards achieving the change that Nigerians desire and to rescue the country from bad governance, stressing that in essence,the party is democratizing campaign funding by the strategic partnership that had been formed.
"There will be five payment platforms and no donation would be too small. The first is through bank payment. And five banks have been saddled with that responsibility. What the banks would do is to provide dedicated teller and it will have on it: APCGMBPYO 2015. And it will be available in all the major branches which are over one thousand.
"The second is through e-transaction through www.APCGMBPYO.org. As you make this donation, there will be records and I will do my best to acknowledge you through text message or possibly by letter whatever the contribution is.
"We intend to show that Nigeria is a civilized country and that change is upon us. The names of the donor will not be published but they will be acknowledging to us by their names and telephone number so that I can thank them by text or letters. There is regulatory provision in the electoral act about how to manage campaign fund. And we have to comply with those regulations," he explained further.