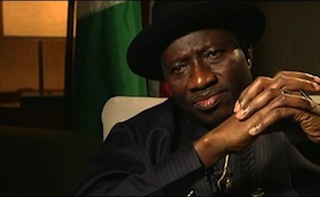 The federal government is under pressure Tuesday to cut petrol prices further, with unions saying people were being "short-changed" over the global crude price plunge.
The main opposition accused the government of "tokenism" before the February 14 elections, after Petroleum Minister Diezani Alison-Madueke announced 10-naira (five US cent, 4.5 euro cent) reduction on Sunday.
A litre of fuel at the pump in Africa's most populous nation and top oil producer now costs 87 naira.
But the opposition and unions said the price of petrol as well as diesel and kerosene should be slashed further.
The All Progressives Congress (APC) said in a statement on Monday that the new price of petrol was "mere tokenism at a time the price of crude oil has crashed by about 60 per cent".
Party spokesman Lai Mohammed said the government should immediately cut the price of petrol to 70 naira a litre and diesel and kerosene to no more than 90 naira.
Mohammed charged that state corruption was to blame for the size of Sunday's reduction, saying the government was unwilling to reduce the price further as it would hit its so-called "commissions".
The plunge in crude prices to below $50 a barrel has slashed the Nigerian government's revenue, forcing it to revise its 2015 budget forecast.
Africa's leading economy based on gross domestic product derives 70 per cent of government revenue and 90 per cent of foreign exchange earnings from crude sales.
Nigeria currently produces 1.75 million barrels of crude a day, according to OPEC, but imports most of its refined petroleum products, which the government subsidises to keep prices low.
A devaluation of the currency against the US dollar has also hiked the cost of imports, with a knock-on effect on the price of imported goods and services to consumers.
Peter Ozo-Eson, general-secretary of the Nigeria Labour Congress workers' union, echoed calls for further reductions at the pump.
"If we consider all the variables in determining petrol prices, Nigerians are still being short-changed," he told AFP.
"The 10-naira drop is not enough. It should have been 30 per cent or even more. If you check other oil-producing nations, you will notice that the drop is at least one-thirds."