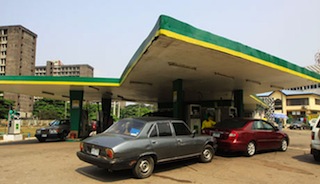 Filling stations in Sokoto and its environs have continued to retain the N97 old pump price of petrol, contrary to the N87 price per litre announced by the Federal Government on Sunday.
NAN correspondents report that petroleum pump price in Sokoto on Monday and Tuesday remains between N97 and N110 per litre.
It was also observed that the situation was the same at most of the major and independent petroleum marketers' filling stations.
It was also observed that the NNPC mega stations on Gusau Road, like several others located in the town, were closed.
Ibrahim Musa, a petrol attendant at Mobile filling station, told NAN "we are yet to receive new supplies of the product based on the new pump price''.
Another attendant at on Gusau Road, also said: "We are ready to adjust to the new price whenever we receive an official confirmation''.
It was, however, learnt that one of the NNPC mega stations on the road sold the product at the old rate of N97 per litre.
All efforts to get comments from the Sokoto Zonal Office of the Department of Petroleum Resources (DPR) had proved abortive.
Its Controller, Mr Salihu Moriki, was said to have traveled out of Nigeria for an official assignment.
In the same vein, his deputy , Mr Kaka Sheikh, was on annual leave while the acting Controller was out of the office when NAN Correspondents visited the office on Tuesday.