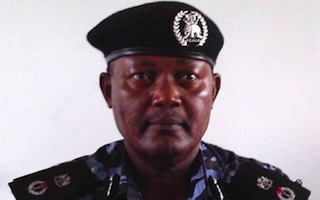 The Inspector General of Police (IGP), Sulieman Abba, has redeployed Joseph Mbu and 27 other Assistant Inspectors General of Police to various departments, zonal commands and formations of the force across the country.
The redeployment was contained in a statement issued on Tuesday in Abuja by the Force Spokesman, Emmanuel Ojukwu.
According to the statement, Abba stated that their redeployment was as a result of recent promotions of some senior officers and vacancies caused by retirement.
Amongst those affected by the posting is AIG Mbu Joseph Mbu who has been posted from Zone 7, Abuja to Zone 2, Lagos.
Abba while charging the officers to be more service-oriented in the discharge of their constitutional responsibilities, urged the public to also partner closely with the force in its determination to ensure improved security of Nigeria.
The officers whose redeployment takes immediate effect are – Tambari Y. Muhammed, Mohammed Abubakar, Aderenle Shinaba, Musa A. Daura, Johnson A Ogunsakin, Patrick D. Dokumor, Christopher T. Dega, Usman Akila Gwarry and Bala A Haassan.
Others are – Ikemefuna R. Okoye, Mohammed J. Gana, Sule Mamman, Adisa B. Bolanta, Edgar Tam Nanakumo, Sabo Ringim Ibrahim, Wilfred Eje Obute, Kalafite Helen Adeyemi, Ibrahim Maishanu, Jubrin Olawale Adeniji, Lawal Tanko, Ballah Magaji Nasarawa, Yahaya Garba Ardo, Buhari Tanko, Olufemi A. Adenaike, Umaru Abubakar Manko, Irimiya F. Yerima and Mark Adamu Idakwo.
Meanwhile, the Police Service Commission has also approved the promotion of Commissioner of Police, Adenike Fehintola Abuwa to the rank of AIG.
It will be recalled that Mbu described himself as a lion, who tames leopards that crosses his way during a face-off with Rivers state governor, Rotimi Amaechi.
"It is only lion that can tame leopard. Each time the leopard remembers my face, it makes noise, but if it knows I am around, it cannot make noise. A lion is a lion," he boasted at an event in Abuja.