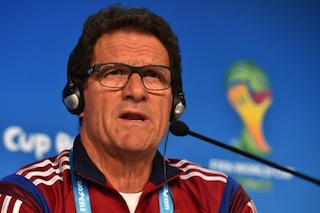 European football chief Michel Platini on Tuesday urged Russia's Football Union (RFU) to pay the wages they owe to national team manager Fabio Capello after they missed a deadline to settle the debt.
"Capello has never issued any complaints," UEFA boss Platini told a news conference in Moscow after meeting with RFU bosses.
"But I don't think it's right that the RFU are not paying his wages. It's bad publicity for Russian football ahead of the upcoming 2018 World Cup. I recommend that the RFU move to solve this problem."
The RFU president Nikolai Tolstykh is currently facing a sack threat over the six-month failure to pay Capello's wages after a deadline issued by Russia's labour agency to pay the manager expired on Monday.
"We haven't got any information from the RFU concerning our order to discharge Capello's contract debts," the R-Sport news agency quoted Russia's labour agency top official Yegor Ivanov as saying.
"The agency is now set to hold an unscheduled inspection of the RFU."
Tolstykh, who has already been fined for Capello's payment arrears, may now be discharged from his post and banned from the sport for up to three years.
The Russian football chief meanwhile told the news conference that the RFU will partially pay off Capello's back wages after recently receiving some funding from world football governing body FIFA.
"We're making every effort to clear off Capello's overdue wages," Tolstykh said.
"Two days ago we received some funding from FIFA and we're set to use this money for a partial discharge of Capello's debt. Unfortunately this sum is not enough to solve the problem completely."
The 68-year-old Italian manager signed a new lucrative contract with the RFU last year which covers the 2018 World Cup hosted by Russia.