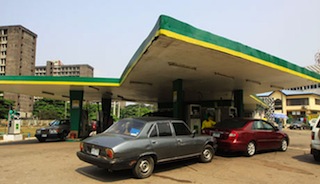 Some motorists in Port Harcourt on Tuesday decried the scarcity of petrol, following the N10 reduction in the pump price of fuel announced by government on Sunday.
A correspondent of NAN who monitored the implementation of the new pump price, reports that most filling stations remained closed to customers.
Mr Udoka Nwafor, one of the motorists, said that some stations stopped selling Petrol in their stations due to the reduction in the price of Premium Motor Spirit (PMS).
"Some of the stations that were selling fuel last night have all shut down because of the new pump price.
"We don't know where to buy fuel because most stations have decided not to sell their products at the current price; the ones that opened are still selling at 97.
Nwafor said that queue on few stations that were selling, keeps motorists at the station all day.
Mr Wilson Godfrey, another motorist said that some stations outside the town were still selling at the former price. "All the stations at the NPA road are still selling at N97 per litre and no agency is monitoring their sells.
Godfrey called on regulatory agencies to come to their aid to reduce a long queue in the few filling stations still selling at N87.
Mr Tonye Barason, the station manager of NNPC Mega station, said that the station complied with the reduction immediately it was announced.
"We complied with the directive immediately we got the information and we have been selling at N87 since yesterday– till now," he said.
Barason said that the station would not stop or hold PMS for any reason because they work according to government directives.
NAN recalls that the Federal Government reduced the price of Premium Motor Spirit (PMS) on January 18 from N97 to N87 per litre.
Mrs Diezani Alison-Madueke, the minister of petroleum Resources announced the policy and directed all fuel stations and the regulatory authorities to effect the change in price immediately.