Taiwo Adelu
Former Nigerian international goalkeeper, Wilfred Agbonavbare is clinging to his life as he battles to survive cancer at a Spanish hospital.
The ex-Rayo Vallecano goalie, who been relocated back to Spain after spending five months in a Tampa, Florida, hospital, to continue with his treatment told a friend recently that: "I was relieved of my job after I was diagnosed with cancer. My wife died of breast cancer three years ago and when she was diagnosed with breast cancer I spent all the money
"I made playing professional football on her medical bills to keep her treatment uninterrupted. Consequently, I had to send my three children to Nigeria because my lethal health condition."
Agbonavbare, who was a member of Nigeria's U-21 Mexico 1983 Flying Eagles, 1984 AFCON silver medalist and 1994 AFCON gold medalist, is calling on Nigerians to come to his aid and so did some of his teammates in the Eagles calling on the Federal Government to convert the scholarship awards promised the 1983 Flying Eagles team into financial rewards so that Wilfred's cancer treatment continues uninterrupted. This according to them will also enable some of their colleagues in despair as a result of financial constraint to have hope.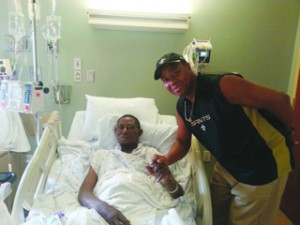 Ex-Flying Eagles and Green Eagles star Dehinde Akinlotan said Agbonavbare needs urgent help now, adding that "Mr. Agbonavbare is plagued with serious sickness at a hospital bed as we speak seeking financial support and also fighting for his life, we are hoping that our plea to Mr. President in redeeming the pledge bestowed on the team. We had already lost three of our teammates (Ali Jeje, Chris Anigala and Tarfa Kpako) to illness during our plea and we pray that almighty God will be with and give Agbonavbare good and sound health."
"It's unfortunate that one of us is at the point of death struggling to pay hospital his medical bills and if our government redeems this scholarship it will help to save his life. I am talking about Wilfred Agbonavbare. We are also asking FG or FA to find a way to put together a retirement plan so players have something to fall back on upon retirement from active football," said Tajudeen Disu, a former defender in the Eagles.
Femi Olukanni, who played at the 1983 FIFA U-20 World Cup Final said: "The current health condition of Agbonavbare on sick bed deeply concerns us greatly because of the request from good-hearted friends to ask for prayers and financial support on his behalf. We do believe that if this scholarship is converted to financial rewards, Wilfred's treatment will not be interrupted, and this is the collective hope we come to you with."
Vice captain of the 1983 Flying Eagles set, US based Chief Paul Okoku said he was sad about the news of Agbonavbare's woes.
"When I read that our former teammate, Agbonavbare, is terminally ill, it saddened my heart because the last time I saw him, he was a vibrant young man, full of life ahead of him. And his look on the sick bed sent a chill through my spine which resonated deep on my emotion.
"We, the 1983 set of Flying Eagles players, are calling on President Goodluck Jonathan, as the promise keeper, to honour the promised scholarship the then President Shehu Shagari, made to us in 1983 after qualifying Nigeria for her first ever FIFA-organized tournament. In doing so, Wilfred, who is terminally ill, will not be in want financially and he can focus on his treatment with peace of mind. And equally, many of our teammates in despair, struggling to make ends meet financially and suffering from deplorable health conditions with no medical assistance will have hope," said Okoku, former Eagles' midfielder who established Greater Tomorrow Children Foundation (GTCF) to help the less-privileged children in the Nigerian society.