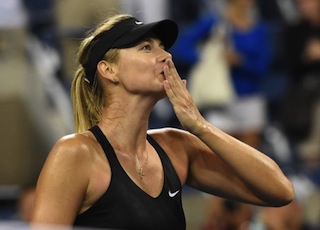 Second seed Maria Sharapova staged an epic comeback in the Melbourne Park heat on Wednesday after Russian qualifier Alexandra Panova pushed her to the brink of a humiliating second round exit.
The five-time Grand Slam champion saved two match points and had to draw on all her big-match experience to eventually down an opponent ranked number 150 in the world 6-1, 4-6, 7-5 after two hours 46 minutes.
Sharapova was left struggling for positives after her unknown compatriot left her red-faced and flustered in a centre court match she was expected to breeze through.
"I was one point away from being out of this tournament twice today and not playing my best tennis so I'm just happy I was able to win that last point," Sharapova said.
"I pulled through, I guess at this point that's what matters, Certainly it gives me a lot amount of confidence that I didn't play my best and was able to come through. Sometimes that's good."
The 27-year-old won the Australian title in 2008 but also has a history of struggling in the heat in Melbourne, particularly during the early rounds, including a first-round exit in 2010.