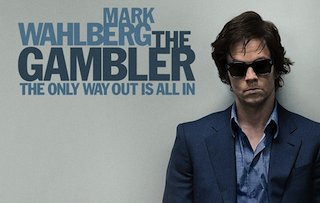 For many film hacks, the year 2014 was set to end perfectly with The Gambler; a remake of the original 1974 film, and for the most part, industry experts expected this poker-themed flick to prevail in the world of Box Office ratings. However, surprisingly enough, the Paramount Pictures production slumped and was outshone by a few of the year's films for 2014.
The remake which stars Mark Walhberg was projected to rake in approximately $18 million in its first week globally when it hit the cinemas on December 19. But what many didn't take into consideration was the films it was set to butt heads with, like powerhouse productions such as The Hobbit: The Battle of the Five Armies, Into the Woods and Unbroken. Having to contend with these titles dramatically affected the box office takings, and although the film only cost $25 million to make, according to Box Office Mojo the film only took $9 million in its first week of release – 50 per cent of the forecasted takings for its first week of release.
The film did go on to take around $33 million globally but without doubt underperformed because of releases around this period taking considerably more. Pro Box Office reported that Unbroken ($37 million), Into the Woods ($47 million) and The Hobbit: The Battle of the Five Armies ($157 million) all outperformed the Paramount production.
With the underwhelming performance of The Gambler, it will surely have many scriptwriters questioning whether there is any future for the casino genre that once prevailed under titles such as Cool Hand Luke and Rounders. Previously scriptwriters were cashing in on the success of the aforementioned titles, as many could relate to movies that symbolized gambling through the big screen. As well as cashing in on the Internet casino phenomenon that saw the rise of the first online casino portal InterCasino in 1996 that later went on to have huge success in Asia. All of these variables should have helped The Gambler's ratings, but they didn't.
Thus, it will be interesting to see if there's longevity in the casino niche especially with big budget films. Watch this space.