Okafor Ofiebor/Port Harcourt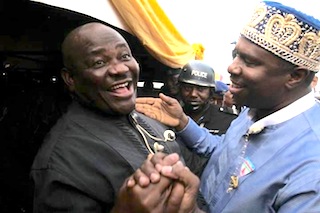 The three leading governorship candidates in Rivers state today signed a peace pact under the eagle eyes of the American Ambassador to Nigeria, James Entwistle, today.
The candidates who signed the peace pact are :Dr Dakuku Adol Peterside, All Progressives Congress (APC) Nyesom Wike of the Peoples Democratic Party (PDP) and Prince Tonye Princewill of the Labour Party.
Entwistle had paid a private visit to Dakuku Peterside, APC governorship candidate at his private residence in GRA, Port Harcourt.
The ambassador who has visited Port Harcourt, Rivers state capital on his advocacy for non-violent political campaigns and election also visited Nyesom Wike, the PDP governorship candidate of the state during his previous visit.
During the American ambassador's visit, he was presented with Peterside's four-point agenda which is tagged: Road Map to Prosperity, which encapsulates his action plan and manifesto if he wins the governorship election on February 28.
The US Ambassador to Nigeria, Entwistle who initiated the peace pact counselled the candidates to avoid hate speeches during their campaigns and be magnanimous in victory. He urged them to exude sportsmanship in defeat.
He appealed to the candidates to sensitize their followers to be tolerant of the divergent views of rival political parties.
The three candidates who signed the peace pact assured the American ambassador of their solemn pledge to stick to issues based campaigns.