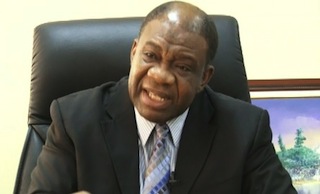 The Minister of Power, Prof. Chinedu Nebo, on Wednesday said Government had raised a validation list to pay for Pension Fund Administration (PFAs) and severance entitlements for 1,669 workers of the defunct PHCN.
Nebo, represented by his Chief of Staff, Prof. Chidi Onyia, made the disclosure at an interactive session with newsmen in Abuja.
He said it was untrue that a significant number of the former workers had not been paid.
Nebo, who was reacting to the recent protest by the workers over non-payment of their severance packages said:
"I don't understand where that allegation is coming from because when the privatisation process started, the Bureau of Public Enterprises (BPE) projected a list of about 47,000 workers.
"Of that 47,000, over 45,000 were validated and paid both their severance packages and their PFA."
According to him, the number of those to be paid was about 2,400 and out of that number, 1,669 had just been validated based on a committee's recommendation.
Members of the committee include the BPE, NLC, Ministry of Power and the Transmission Company of Nigeria (TCN).
The minister said the names of the validated workers would be published next week to present their information for the validation process to go on before they can get paid.
He said the verification of the 1,669 ex-workers would be done across nine centres including Lagos, Port Harcourt, Kano and Abuja between January 26 and February 6.
The minister, however, did not disclose how much would be paid to the workers
"We can't say how much will be paid, I will have to get the exact amount from BPE. But once a validation is through and the list is submitted to the Office of the Accountant General, funds are released right away," Nebo said.
He said the exercise was not carried out because of the coming elections as being insinuated.
"I had said that this list for 1,669 former workers came up from several processes. The demonstration just happened two days back, so we couldn't have gone to the zonal offices, validated the list and about to publish it just in 48 hours."