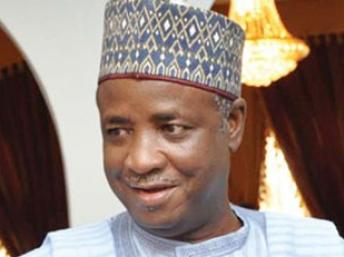 Governor Aliyu Wamakko of Sokoto state has described the call by the National Security Adviser, Sambo Dasuki, for the extension of next month's general elections as a dangerous omen to the survival of the nation's nascent democracy.
"We will not allow any move to tamper with the ongoing electoral processes " Wammako old APC supporters at the presidential rally on Thursday.
He said that Nigerians are ready for the election and that the fear of the 'unknown' was responsible for Dasuki's advocacy.
He said that democracy has come to stay in Nigeria and that we are fully prepared to do all that we can do to protect the nation's nascent democracy for peace, progress of the nation development.
Col Sambo Dasuki in an interview with Reuters in London Thursday called for the postponement of the next month general election.
He said the postponement will give the Independent National Electoral Commission, INEC more time to distribute millions of biometric ID cards to voters, the country's top security official said on Thursday.
He said he had told the chairman of the Independent National Electoral Commission (INEC) that a postponement within the three months allowed by the law would be a good idea.
But the All Progressives Congress, Nigeria's main opposition coalition said it would oppose any postponement, and the electoral commission said it had not received any such official communication from Dasuki.
Former vice-president Atiku Abubakar has also warned against tampering with the election time-table.
The elections, currently scheduled for Feb. 14, will be the first where Nigeria's 68.8 million voters must have a biometric cards — a measure introduced to guard against fraud that has plagued past polls.
But there have been technical glitches in data collection and officials have not explained how they will hold the election in parts of the northeast gripped by a violent uprising by Islamist Boko Haram rebels.
How Africa's biggest economy conducts this poll will be closely watched by investors and foreign powers, amid the uprising and an economic crisis linked to low oil prices.
Dasuki, speaking at London think-tank Chatham House, said INEC had distributed 30 million cards in the past year but had another 30 million to hand out.
He said INEC had assured him it would achieve this in time for the February date, but he thought it would make more sense to take more time and there was a 90-day window during which the election could legally take place. "It costs you nothing, it's still within the law," Dasuki said he had told the INEC chairman.
Dasuki said it was for INEC and not for him to decide. "Why are they not ready? Why should we postpone? We say 'no' to postponement," Lai Mohammed, spokesman of the opposition All Progressives Congress (APC), told Reuters. "They know that if they don't postpone they can't win. They are just terrified."
INEC spokesman Kayode Idowu said there were currently no plans to delay. "It is not a conversation of the commission's at all. As far as we are talking now, the date is what it is," Idowu said.