Praiz Adejo, the 2008 MTN West Africa Project Fame runner up, finally released his debut album (double CD album) late last year. The double album, titled Rich & Famous, was released under the label of X3M Music. Praiz explains why it took him six years to make his debut and his relationship with fellow artistes especially Iyanya
Why did it take you so long to release your debut?
I took this long to put out a great body of work. I was very particular about the quality and style of music, and in doing this, I needed to settle down and work on an amazing album.
Why did you release a double album?
It was to showcase my versatility. The double album shows the two sides of Praiz. It is titled Rich & Famous. On the 'Rich" album are R&B songs, while the 'Famous' has pop songs that many people like. I decided to package those songs into different albums so as not to get listeners bored and confused. So it was best to have those songs in two different albums.
It is observed that the two albums contain different genres of music. Why is this so?
I am not a jack of all genres but the truth is that to survive on the Nigerian music scene, one must be versatile. As a good musician, you should be able to pull off any performance. You should be able to give your audience different kinds of music and that's what I bring to the table and when you listen to the album, you will know I mean business.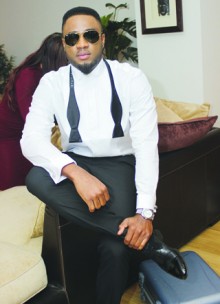 Who are those artistes that you featured in the album and what informed their choice?
I worked with Wizkid, Patoranking, Bez, Awilo Logomba, Chidinma and Sammy in the two albums. However, when I was thinking of who to feature for collaborations, I was actually particular about the sound. I tried to picture the kind of music I wanted to make at that particular time and whose sound would actually play better on each song and those are my reasons for my choice of those who featured in my album.
Do you see it as a coincidence that after you released the single Rich & Famous fortune beginning to smile at you?
My dear mom used to tell me that you are what you say you are because in your mouth is the power. For me, Rich & Famous is actually a prayer song and even till tomorrow, I keep repeating that song because I want to be bigger than who I am now.
So, you are rich and famous now and the money has started trickling in?
All glory belongs to God and I am grateful to Him because I can pay my bills. I can feed myself, pay my siblings' school fees conveniently. I have four siblings and three are in the university now. I can also pay my house rent, buy myself  good cars as well as travel to wherever and whenever I want. I am grateful to Almighty God.
What are the challenges you dealt with between 2008 when you emerged runner up at the MTN West Africa Project Fame and now?
It was quite a challenge that this is a guy that millions have seen on the television who came close to winning the Project Fame. It was a hard time for me trying to live up to the expectations. The talent was there but no resources to record and promote my music. Since the talent was there, I still kept putting more effort. Even though it was hard, I went to shows, took pictures just to ensure that I am in people's eyes, I even begged to perform at shows for free and all in all I tried and paid my dues.
So when did you notice the change in your fortune?
I believe my music career has been progressing since I was out of the Project Fame but it came to fore after my collaborations with MI on 'Epic' off his MI2 album. That was a major boost for me.
Did you think you would have been bigger than Iyanya if you had won that year's Project Fame?
To be honest, only God knows if I would have been bigger than this. But I am so grateful to God where he has taken me to at this stage. You know it's funny each time they are mentioning Project Fame winners, my name normally props up as if I actually won and not a runner up.
But is there any rivalry between you and Iyanya?
People keep saying Iyanya and I aren't cool. The truth is we are actually closer than what a lot of people actually think. I have never seen Iyanya as a rival. Never. I have always seen him as a brother. Right from when he was nothing till he became someone prominent, I have never been envious of him. I believe everybody has his own time. Iyanya has put in a lot of work even in the Project Fame house and he ought to have blown even before he did, but he didn't allow winning get into his head. You have to experience the struggle and it's just life and a learning process. You make mistakes, make corrections and get better.
What do you make of those who say R&B genre is not marketable in Nigeria?
I would like to correct that notion that R&B doesn't sell in Nigeria, I think that's wrong. As an R&B artiste with a pop song, I got my first major endorsement. So, that assumption about R&B is wrong.
What inspired you when writing songs?
I am inspired by experiences. I would rather write a song based on an experience, be it personal or indirectly, because it makes your songs sound real. It will make a lot of people able to connect with your song. For example, the Rich & Famous song, a lot of people were able to connect with the song especially the part where I said, "Mama, I will buy you a Range Rover." Most people want to say thank you to their mom or dad for making them who they are today. People love to listen to songs they can easily connect with.
Are your parents still in the North?
Yes. They are in Kaduna and I visit them always.
Who is the woman in your life?
The only women in my life are my mom and my sisters.
Tell us about your relationship with X3M Music?
I am a family person and I consider the relationship between my recording label X3M and myself as beyond business. I doubt if any artiste in this industry has gotten a contract that I have with X3M. Don't bother to ask me for the detail but it was a contract that favours me to the extreme. It was a blessed deal and I am grateful to X3M and my CEO, Steve Babaeko, who believe in my talent and gave me opportunity to be signed on.
What is your dream collaboration?
My dream collaboration will be Praiz featuring John Legend. For now, that is my dream collaboration. At home, I look forward to working with 2Face Idibia because he is someone I admire a lot. But John Legend will be my ultimate collaboration. And hopefully, by God's grace, it will come to reality.