Kayode Aponmade
Fast rising female gospel musician, Bunmi Akinnaanu Adeoye, otherwise called Omije Oju Mi has embarked on a playing tour of United Kingdom and United States of America.
The tour is organised to promote her latest album titled Tujuka in Europe and America in response to her fans and music lovers' demand.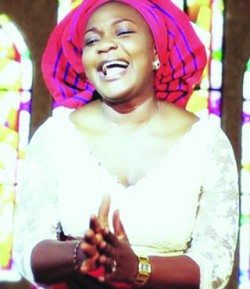 While in the United Kingdom before she moved to America, Bunmi was honoured with an award, The Best Prolific Artiste of the year by a group of Nigerian gospel music followers.
Tujuka,her fifth album released recently from the stable of Galaxy Music and tracks therein are Tujuka, Iyin, Gbe Ogo Mi Yo and Ileri Oluwa.
An impeccable source told P.M.NEWS Entertainment Café that parts of the video of the four-track album are also being shot across various locations in UK and USA and will be completed in Nigeria as soon as she returns.