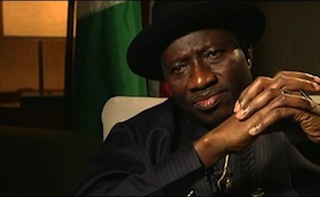 President Goodluck Jonathan on Friday said his sister, late Madam Nancy Oleic- Jonathan died of a heart related ailment.
The Oleic-Jonathan died on January 4, aged 52.
Jonathan and his wife, Patience, made the remarks when they led other members of the family to a funeral service in honour of the deceased at St. Stephen's Anglican Church, Otuoke, Bayelsa.
"Nancy's ailment started during my tenure as the Deputy Governor of Bayelsa.
"She was my younger sister from another mother and had undergone several treatments both locally and abroad.
"We thank God she was able to live above the golden age of 50," Jonathan said.
Until her death, Nancy was a member of staff of Ogbia Central Medical Centre, Otuoke.
She was married and blessed with six children.
A biography published by the family said Nancy was described to be a hard working and a devout Christian, who never took the things of the Lord for granted.
She was also described as a great weaver, greatly endowed with craftsmanship.
"In her days, priority in education was given to male children and being a child from a polygamous family, she did not have the opportunity to acquire a higher education.
According to the biography read by Mr Lamawal Jonathan, the deceased excelled greatly in craftsmanship which was her hobby.
Earlier in his sermon, the Bishop of Ogbia Diocese, the Rt. Rev. J. A Oruwori, said death was an end that awaited every man.
He admonished Christians that they could overcome death through Christ and by remaining steadfast in trials and temptations.
Dignitaries at the service included Gov. Serieke Dickson of Bayelsa and his wife, Rachael.