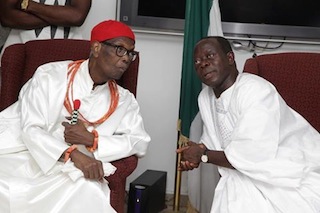 Governor Adams Oshiomhole of Edo on Thursday presented All Progressives Congress' (APC) candidates in the state before the Oba of Benin, Oba Erediauwa, for blessing in the elections in February.
The 11 candidates presented included Mr Samson Osagie, the Edo South senatorial candidate, Uyi Igbe and Paul Ohonbamu for Oredo and Egor, Federal constituencies respectively.
Also presented were Mrs Elizabeth Ativie and Crosby Eribo, respective candidates for Uhumwonde and Egor for the State House of Assembly, among others.
Oshiomhole told the monarch that the purpose of his visit was to present to him the candidates vying for the Edo south seats in both National and state Assembly under APC for blessing.
"I have come to present the APC candidates vying for seats in Edo South, in both National and State Assembly to you for royal blessing.
"I promise to complete all the developmental projects I have started in the state before the end of my tenure.
"I also assure you that the APC candidates, when voted for, will ensure that the developmental strides will be sustained," Oshiomhole said.
The governor, however, urged the opposition party to stop criticizing his administration, as he was "still cleaning up the mess" he met in the state.
Oshiomhole said his government would make the environment comfortable for all residents.
Responding Oba Erediauwa thanked Oshiomhole and his party's candidates for coming and wished them well in all their endeavours.