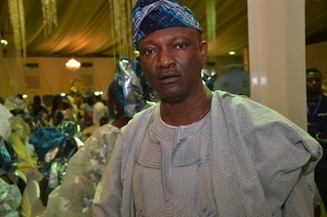 The Archbishop of the Resurrection Praise Ministry, Sampson Benjamin, on Saturday said that Jimi Agbaje had unique virtues that could make him the best man for the governorship of Lagos State.
Benjamin described Agbaje as "a de-tribalised Nigerian who has what it takes to be the governor of Lagos State''.
The cleric was speaking at a rally organised by a coalition of civil society groups, trade unions and socio-cultural organisations in Lagos.
The rally, which had a huge turnout of Agbaje's enthusiasts, was held at the International Trade Fair Complex along the Lagos-Badagry Expressway.
Benjamin said that Lagos was a state that accommodated all ethnic groups in Nigeria and therefore, was fragile to handle.
"Agbaje is a man who identifies with all tribes, the poor and less-privileged.
"Agbaje is a man who does not discriminate against non-indigenes.
"My dealings with him revealed his openness and large-heart.
"With Agbaje as the governor in Lagos, we have got it right because his administration will be positively all-encompassing and will benefit all residents of the state from the elite to the down-trodden."
Benjamin told the supporters to ensure that they voted and that they voted not only for Agbaje but for President Goodluck Jonathan.
The archbishop who earlier, donated an 18-seater Toyota bus and two campaign offices at Festac Town and Ojo to the Agbaje Campaign Organisation, urged Nigerians to eschew violence as they got set to go to the polls.
Agbaje promised to live up to the expectations of the people if elected.
"Everything my administration will do will be beneficial to all Lagos residents.
"Irrespective of your tribe, religion, or whom you know, my administration will empower all," he promised.
The News Agency of Nigeria (NAN) reports that the PDP State Chairman, Chief Tunji Shelle, chieftains of the Igbo-speaking community in Lagos and members of the Transformation Ambassadors of Nigeria, among others, attended the crowded event. (NAN)