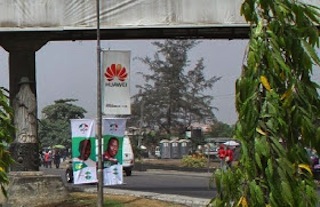 Nigeria's Federal Government has terminated existing approvals for outdoor sites previously given to outdoor practitioners in Lagos State.
The termination order affects outdoor ad locations on Federal government roads/setbacks.
The decision is contained in a letter written by the Federal Ministry of Works to the President of the Outdoor Advertising Association of Nigeria (OAAN).
The decision may be aiming at outdoor sites in Lagos State including electronic billboards currently featuring APC adverts.
OAAN, the association representing outdoor agencies in Nigeria has called for an emergency meeting of its executive members on Monday to deliberate on this latest development.
OAAN is expected to discuss amongst other issues the N350 million loss suffered by some of its members as a result of the illegal deployment of PDP adverts on street lamp poles previously paid for by Globacom and Huawei, the Chinese telecommunications company.
Early this week, LASAA, the Lagos state owned signage agency threatened to remove PDP/Jonathan adverts illegally erected on sites already paid for by the firms.