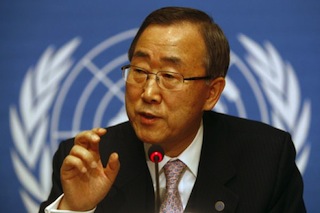 Dr Mohammed Chambas, the Special Representative of the United Nations Secretary-General for West Africa, has pledged the organisation's support for on-going counter-terrorism campaign in Nigeria.
The pledge was contained in a statement issued by Lt.-Cdr. Way Olabisi on behalf of the for Director, Defence Information in Abuja on Friday.
It would be recalled that Nigeria's national security adviser, Sambo Dasuki on Friday ruled out the need for a United Nations or African Union-backed force to fight Boko Haram, saying the country and its partners could handle the threat.
"It's something that we can do. It's absolutely something we can do," he told BBC World Service radio in an interview.
But Olabisi said Chambas, who is also the Special Envoy of the UN to Nigeria, made the pledge when he visited the Chief of Defence Staff, Air Chief Marshal Alex Badeh, in Abuja.
He quoted the envoy as saying that the UN would be ready to give Nigeria all the needed support to counter terrorism.
Chambas also advocated collaboration between Nigeria and its neighbours in the efforts to defeat terrorism.
Badeh thanked the special representative of the UN secretary-general and said that Nigeria would welcome any assistance that could help it in the prosecution of the fight against Boko Haram.
He assured the envoy that the armed forces would continue to adhere strictly to the rules of engagement and observance of human rights in prosecuting the war against terror.
Badeh used the occasion to reassure the UN that the military would work for the peaceful conduct of the forthcoming general elections in the country.