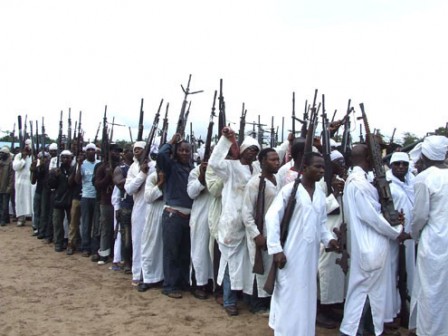 A group, the Conference of Minority Tribes in Nigeria,(COMTIN) has come out openly to express displeasure over inflammatory comments and activities of some ethnic groups ahead of the 2015 general elections.
The group said plans by the various groups to make Nigeria ungovernable after February 2015 if their anointed candidate does not win election is not only anti- democratic but a total contradiction of free, fair and transparent elections anywhere in the world.
Worrisome to the group were the attacks on President Goodluck Ebele Jonathan's campaign train in Katsina, Bauchi and some other parts of the north and the recent regrouping of ex-Niger Delta warlords under a peace summit camouflage in Yenagoa organised by Gov Seriake Dickson.
These twin events are signs that ethnic bigots are planning to visit the peace of the nation with violence and untold hardship based on their presumed outcome of the 2015 general elections, the group said in a press conference in Abuja Saturday.
According to Comrade Okpokwu Ogenyi Shagari who spoke on behalf of the conference, in as much as Nigerians and observers of our democracy have unequivocally lambasted and condemned the unwarranted attack on the campaign train of President Goodluck Jonathan in Katsina and Bauchi States, we will not be fast to commend the peace summit organised by the Bayelsa State Governor, Serike Dickson knowing fully well that more than 200 ex-warlords like Asari Dokubo, General Tompolo, Ateke Tom, General Ogunboss and a couple of ex-militants from Imo, Abia and Ondo States also attended the meeting at a time that members of the Ijaw Youth Council are threatening retaliatory attacks on General Muhammadu Buhari, the presidential candidate of the All Progressive Congress.
The group warned that Nigerians must learn from history as Boko Haram which has caused grievous national and economic damage is still believed by many as a product of inflammatory comments by northern leaders to make Nigeria ungovernable should Jonathan win in 2011. It urged Nigerians to condemn similar threats coming from the ex-warlords ahead of the February elections.
"The handwriting on the wall has clearly shown that the drums of war across the country is louder in rhythm than issue based campaigns that should ordinarily rule the political air space especially as we move very close to the general election but unfortunately anti-democratic activities like stoning, violence, intimidation and even threats of war have become the order of the day."
"It is on this note that as much as we condemn the violent attacks on Presidential Jonathan and security personnel on his campaign train in Katsina and Bauchi States, we equally find the recent peace summit organised by Governor Seriake Dickson for over 250 Niger Delta ex- warlords very untimely considering the counter threats from leaders of this same group recently," COMTIN said