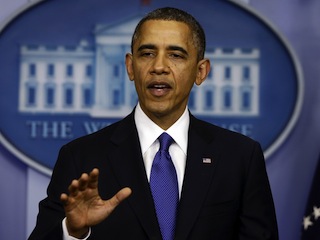 US President Barack Obama vowed on Sunday to ramp up pressure on Russia after rocket attacks blamed on Kremlin-backed Ukrainian rebels killed 30 and injured 95 more.
Saturday's surprise assault on the strategic eastern Ukrainian port of Mariupol threatened to open a new front linking separatist territory near the Russian border with the Black Sea peninsula of Crimea that Moscow annexed in March.
Ukrainian President Petro Poroshenko told an emergency security meeting that Kiev had intercepted calls confirming Saturday's barrage was carried out by separatist "terrorists who receive support in Russia".
And Obama said he would now look at all options — short of military intervention — aimed at restraining Russian President Vladimir Putin's alleged proxy war aimed at stripping Ukraine's pro-Western leaders of their vital eastern industrial base.
He pledged to "ratchet up the pressure on Russia" in cooperation with the European Union, which had been thinking of easing existing sanctions on Russia in the coming months.
"If Mr Putin and if Russia are hell-bent on engaging in military conflicts, their military is more powerful than Ukraine's," Obama said during a visit to India.
"The question is going to be whether they continue to pursue a path that not only is bad for the people of Ukraine, but is… bad for the people of Russia."
New European Council President Donald Tusk — a former Polish prime minister who had long been suspicious of Putin — also warned that the Mariupol attack showed that "appeasement encourages the aggressor to greater acts of violence.
"Time to step up our policy based on cold facts, not illusions," Tusk tweeted.
– 'No alternative to truce' –
The Kremlin flatly denies arming and funding the rebels, who have renounced all truce talks.
It had remained conspicuously silent about Saturday's offensive and Russian state media played repeated footage of a low-ranking militant claiming that the assault was ordered by the Kiev government.
But Russian Foreign Minister Sergei Lavrov said Sunday that the latest upsurge in violence was the result of "constant shelling" by Kiev's troops.
"Lavrov pointed out that an escalation of the situation is a result of Ukrainian troops crudely violating the Minsk agreements by constantly shelling residential settlements," the foreign ministry said after Russia's top diplomat spoke to US Secretary of State John Kerry by phone.
Poroshenko told his top generals that he had asked the European Union to ramp up sanctions on Russia at a special session of foreign ministers on Monday.
The Western-backed leader — looking tired after cutting short his attendance at the burial of the late Saudi king — also insisted that the attack would not provoke Kiev into ordering a tough military response.
"Ukraine remains a firm proponent of a peaceful solution," he told a televised meeting of his National Security and Defence Council.
Regional police said 95 people were also wounded by dozens of long-distance rockets that smashed into a packed residential district and a market in Mariupol on Saturday.
"It is really dangerous here now," Mariupol resident Yulia Simina told AFP.
The 27-year-old said she had moved to the city to avoid the daily bloodshed in the rebel stronghold of Donetsk that lies to the north.
But she lost her car in the shelling and just avoided being hit by shrapnel herself.
The self-proclaimed Donetsk People's Republic's leader Alexander Zakharchenko claimed Saturday that "today we launched an offensive against Mariupol".
He later distanced himself from the rocket fire and denied ordering an actual invasion of the industrial port of half a million people.
But the Organization for Security and Cooperation in Europe (OSCE) said the Grad and Uragan rocket fire came from two locations "controlled by the 'Donetsk People's Republic'".