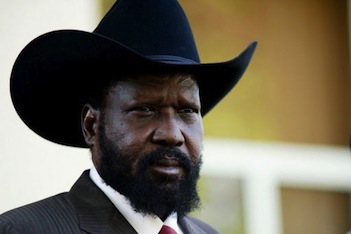 Eleven people, including four journalists working for South Sudan's state-run media, have been killed in an ambush in the remote west of the war-torn nation, independent Radio Tamazuj reported Monday.
A convoy carrying the journalists and local officials was ambushed in Raja county, western Bahr al Ghazal State on Sunday, leaving a total of 11 dead, state governor Rizik Zakaria Hassan was quoted as saying.
The journalists worked for South Sudan TV, Raja Radio and Radio Wau.
The area where the attack took place borders Sudan's troubled Darfur region as well as the Central African Republic. Several armed groups are known to operate in the area, although the report said no group has yet claimed responsibility for the attack.
South Sudan, the world's youngest nation, has been locked in civil war since December 2013 when President Salva Kiir accused his sacked deputy Riek Machar of attempting a coup. The fighting has been concentrated in the south, centre and oil-rich north of the country.