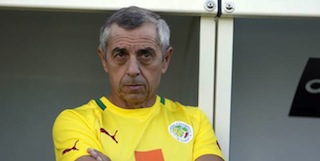 Senegal coach Alain Giresse on Monday admitted his "surprise" on hearing that striker Diafra Sakho had returned to action for his club West Ham United.
Sakho, 25, was ruled out of the Cup of Nations in Equatorial Guinea because of a back injury that prevented him from travelling.
However, he made his comeback as a second-half substitute in Sunday's FA Cup fourth-round tie away to Bristol City and netted the only goal nine minutes from time as West Ham won 1-0.
Speaking on the eve of Senegal's decisive Africa Cup of Nations match against Algeria in Malabo, Giresse said: "First of all we will worry about tomorrow's match, on the lads who are there and not those who are not.
"But I was surprised to hear that he played. He supposedly couldn't fly for six weeks but was able to return to playing. The English maybe have a miracle medicine.
"If things like these happen and nothing is said, it becomes serious for international football. We will end up with lots of players who are not allowed to travel but can still play."
Since his goal, the player has been criticised on social media by Senegalese fans and on Sunday night he responded on his Facebook page, saying: "My absence from the 2015 CAN, from my first CAN, has not been without pain.
"The dream of contributing to the victory of my country has flown for this year but is not dead!"
Senegal had accused West Ham of a "lack of respect" when the striker withdrew from their squad earlier this month and threatened to consult FIFA and the English Football Association to prevent him from playing for his club during the competition.
Senegal asked to carry out their own medical assessment on the striker, as is their right according to FIFA rules, but West Ham said Sakho could not fly and suggested Senegal's doctors came to London instead.
The Hammers also sent Senegal independent medical reports, as well as the club's own examinations, to prove the extent of the injury.
FIFA regulations state that a player who has been called up by his country "is, unless otherwise agreed by the relevant association, not entitled to play for the club with which he is registered during the period for which he has been released or should have been released."
Senegal are top of Group C and need only a draw against Algeria on Tuesday to qualify for the Cup of Nations quarter-finals.