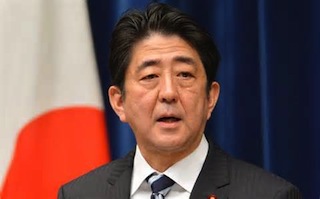 Japanese Prime Minister Shinzo Abe is to blame for the death of a hostage at the hands of the Islamic State group, an editorial in Chinese state-run media said Monday.
The Islamic State group said Sunday it had executed Haruna Yukawa, one of two Japanese hostages it has been holding, in an apparent beheading that has been slammed by leaders around the world.
But China's Global Times, which is affiliated with Communist Party mouthpiece the People's Daily, wrote in an editorial that the Japanese leader's support for the US had drawn Tokyo into the conflict, even though "East Asian countries are not supposed to be key targets" of IS jihadists or global terrorism.
"The killing of the Japanese hostage is more or less the price that Japan has paid for its support to Washington," the newspaper said in the editorial, which was headlined "Abe strategy clearer after hostage crisis" and referred to the Japanese premier by name five times.
Abe could seek to use the hostage crisis to repeal Japan's pacifist constitution, first imposed by the US in the wake of World War II, the paper suggested.
Beijing and Tokyo have been at loggerheads over a territorial dispute in the East China Sea, and while the world's second- and third-biggest economies have close business ties, their political relationship is heavily coloured by history.
China's foreign ministry was more restrained than the newspaper, with spokeswoman Hua Chunying telling reporters Beijing "opposes all forms of terrorism and extremist actions targeting innocent civilians".
Abe himself branded Yukawa's murder "outrageous and unforgivable" and called for the immediate release of the other Japanese captive, freelance journalist Kenji Goto.
The Islamic State group initially demanded Japan pay a $200 million ransom within a 72-hour deadline announced Tuesday, while Abe vowed Tokyo would never give in to terrorism.