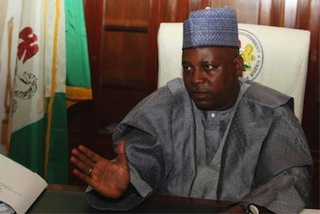 Governor Kashim Shettima of Borno on Monday expressed sadness over Sunday's attempted attack on Maiduguri by suspected insurgents.
Shettima said in a statement in Maiduguri that the residents of the state should remain calm and reassured them that security forces were making frantic efforts to safeguard lives and property.
The statement commended the gallantry of the military in repelling the attempted attack on the state capital.
It, however, regretted the attack on Monguno, headquarters of Monguno Local Government Area in the northern part of the state.
It said that as result of that, properties were destroyed, lives were lost and many people were now taking refuge in different parts of the state with some sustaining gun injuries.
The statement said government was screening and taking records of surviving victims from Monguno with a view to accommodating and offering them immediate palliatives as internally displaced persons.
It called on them to regard what happened as ordained by God and prayed for God's intervention to bring an end to the security challenges.
The statement said the administration was providing necessary support to armed forces involved in counter insurgency operations across the state.
It promised to continue to do everything humanly possible until territories seized by insurgents were reclaimed and sustainable peace and stability achieved.
"Our armed forces gallantly repelled attacks on parts of Borno State.
"We must commend their patriotic efforts. We are very much in touch with leaders of security forces.
"And we will continue to afford them all the support they need as we have always done from our first day in office till date," the statement read.