Jethro Ibileke/Benin
Ahead of the February 2015 general elections, the Army high Command has appointed Brigadier-General Olajide Laleye as Commander of 4 Brigade, Nigeria Army in Benin.
Laleye, who was formerly the Director of Army Public Relations, Army Headquarters, in Abuja, was deployed to replace the outgone Commander, Brigadier-General Fidelis Okwudili Azinta.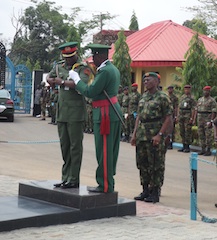 Addressing officers and men of 4 Brigade to "put the interest of the nation first in every assignment you are given and interest of Nigeria Army above personal consideration."
He assured them that the new Commander will "be going with you into every important task of securing, adding that what is expected of them was to carry out every assignment given to them in an unbiased manner.
He noted that their job is to prepare a level-playing ground in an impartial manner during the general elections, saying, that an officer of "Nigeria Army is not a card-carrying member of any political party."
"Victory comes from God. When the Army send you on a task, it does so with a belief that you will come back alive. Your security and that of your comrades must be paramount," Azinta said.
Responding to questions from journalists after the handing over ceremony, the new Commander, Brigadier-General Laleye, said the 2015 election is very a important task, noting that "the Army has no affiliation with any political party. We will ensure that the election is violence-free by providing security for every peace-loving Nigerian."