Abiodun Onafuye/Ijebu-ode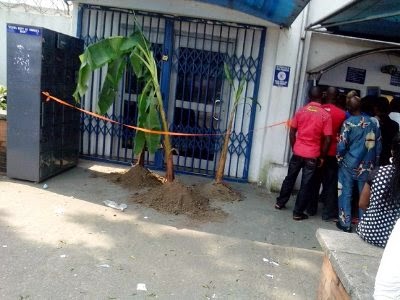 Commercial banks in Ijebu Ode, Ogun state in western Nigeria remained shut for the second day today, over fears of robbery attacks.
Banks in Ijebu Igbo and Ago Iwoye, the university town were also shut.
The banks refused to open shop because the armoured personnel carrier that the police use to give them protection from bandits was not deployed to Ijebu-Ode.
Findings revealed that the APC donated by Governor Ibikunle Amosun to the Nigerian police was not functional.
Before the advent of the present administration in the State in May 2011, all banks within the Ijebu axis were not operating due to security concerns.
Chairman of the Vigilante Services of Ogun State,Comrade Ijaoba Odukoya disclosed that their men and officers patrolled all round the town to ensure that men of the underworld did not seize the absence of the APC to attack both the town and the banks.
"We also got to know about the matter yesterday afternoon and from what we gathered,we were told that the APC has broken down and as you know that the arrangements between the banks around here is that the APC will be driven around the town every working day in the morning and it was those people,I mean,the Police that will ask them to open and guarantee their safety.
"The Police will be moving round the town while our men too will be on patrol to complement the Police. We were told that the APC is not functioning and those people have vowed not to open until the APC is being fixed back.
A police source at the Igbeba Police Command in Ijebu Ode confirmed there was a problem with the APC. But he said the vehicle was being repaired.