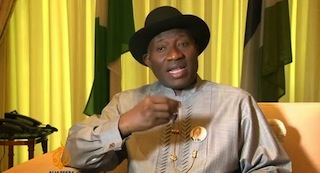 President Goodluck Jonathan on Monday in Ilorin promised more investment in the agriculture sector in order to boost employment opportunities in the country.
The president made the promise on Monday at the Metropolitan Square in the Kwara capital while addressing residents of the state at a campaign rally, ahead of February's general elections.
Jonathan assured the people of the state that his government would not disappoint them if they voted for PDP candidates in all the elections.
The president also promised to create an avenue for wealth creation, adding that young graduates would benefit from his administration's initiatives.
The president also gave an assurance that he would work with the people of the state to create an atmosphere where they would develop their potentials without fear of intimidation.
"We don't want a government run by intimidation; you must be able to express yourselves.
"That is the reason I signed the Freedom of Information Bill into law.
"Nigeria is not a zoological garden, Nigeria is not a forest, it is a country that its citizens must be free to express themselves," he said.
Jonathan appealed to the people to vote massively for the PDP during the elections so as to transform the country as a whole and Kwara in particular.
In his remarks, Vice President Namadi Sambo said Jonathan was the most qualified for the post having recorded many achievements.
He said the president had completed many road projects while ensuring the establishment of 12 new universities.
Also speaking, the PDP National Chairman, Dr Adamu Muazu, said Jonathan had removed fraud in the agriculture sector as farmers now access fertiliser, chemicals and seedlings with ease.
Muazu, who presented the party's flag to its guber candidate in the state, Sen. Simeon Ajibola, as well as his deputy, Alhaji Yinka Aluko, said only a PDP victory in the polls would transform the country.
In his remarks, Ajibola called on the people of the state to vote for the president and all PDP candidates in the elections.
He thanked the president for demonstrating love to the people of the state, saying this would be reciprocated in the presidential poll with victory.
Ajibola, however, appealed to the people of the state to collect their voter cards, saying this was the only weapon to effect change in the state.
Senate President David Mark, in his remarks, assured the president that the North Central Zone of the country would record the highest votes for him on February 14.
Mark also assured the president that the PDP would reclaim Kwara and Nasarawa States, adding that the party would check rigging.
Present at the rally were wife of the president, Dame Patience Jonathan, the wife of the Vice President, Hajia Aminat Sambo and the Minister of National Planning, Dr Suleiman Abubakar.
Others included the PDP Chairman in the state, Mr Iyiola Oyedepo, Mr Dele Belgore (SAN), Chief Rex Olawoye, Mr Jani Ibrahim, Hajia Bola Sagaya, Sen. Makanjuola Ajadi and Mr Lola Ashiru.