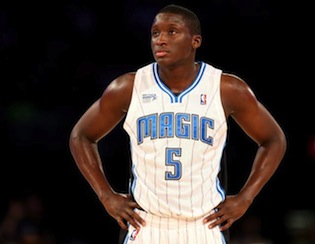 The Orlando Magic's Victor Oladipo, the 2014 NBA Rookie of the Year runner-up, and Brooklyn Nets standout Mason Plumlee are among four rising stars named Tuesday to the 30th NBA Slam Dunk Contest.
Greek 20-year-old forward Giannis Antetokounmpo of the Milwaukee Bucks and Minnesota rookie guard Zach LaVine will also compete in the annual showdown of acrobatic leaps and spectacular ball-jamming staged on the eve of the annual NBA All-Star Game.
The February 14 event will highlight All-Star Saturday festivities at the Barclays center in the city of New York.
The Eastern and Western Conference top players meet in the 64th NBA All-Star Game at Madison Square Garden in the city.
Dumping a team format used last year, the contest returns to its traditional format of two rounds with players allowed any dunk they choose and no time limits.
Players have a maximum of three attempts to complete each dunk in the first and final rounds, with judges scoring every basket between 6 and 10. After two first-round dunks, the two top scorers advance to the final, their earlier points not carrying over.
Oladipo, a guard, has boosted his scoring average from 13.8 points last season as a rookie to 16.5 points this season and improved his shooting percentage four points to 45.9 percent.
Plumlee is averaging 10.4 points and 6.7 rebounds for Brooklyn this season. The center could become only the fourth player to win the dunk contest on his own home court, joining Chicago's Michael Jordan in 1988, Minnesota's Isaiah Rider in 1994 and the Los Angeles Clippers' Blake Griffin in 2011.
Antetokounmpo, the first Bucks player in the Slam Dunk Contest since Ray Allen in 1997, could become the first player from outside the United States to capture the dunk crown.
Newcomer LaVine ranks second among rookies with 3.4 assists a game and ranks fourth in rookie scoring with 8.0 points a game. At 19, he would be the second-youngest slam dunk champion behind Kobe Bryant, who was 18 when he captured the 1997 title.