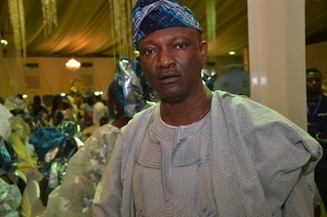 The governorship candidate of the Peoples Democratic Party (PDP) in Lagos State, Jimi Agbaje on Thursday said that the All Progressives Congress (APC) in Lagos was portraying him in bad light because it was becoming jittery.
Addressing a rally in Amuwo Odofin, Agbaje said that rather than resort to mudslinging, the APC should focus on issue-based politics.
"The more mud they throw on me, the cleaner I come out," he said.
Agbaje described Governor Babatunde Fashola's allegation that he (Agbaje) was involved in tax evasion as false and a campaign of calumny based on fear of losing to the PDP.
"The governor in one of the APC rallies had said that I am too old (57) to govern the state, whereas we are all in our 50s and I look younger than them.
"At another forum, he said I do not have experience to be a governor and I begin to wonder where he got his own experience as governor before governing Lagos.
"I want you to know that governance is not about experience but it is about qualification. So far, we have done two debates, those of you who watched the debate will agree with me that we floored the APC candidate.
"Recently they said I am a tax evader but only this month, the state government sent me a letter commending me for paying my tax promptly," he said.
Agbaje expressed sadness over the delay in completing the ongoing Lagos-Badagry Expressway project since 2012, as promised by the state government.
He assured the people that if elected, the project would be a priority of his government to complete in order to assuage the transportation problem faced by people in the area.
The Lagos State Chairman of the PDP, Chief Tunji Shelle, promised that a PDP government in the state would ensure rapid development at the grassroots.
"I want to assure you that as a PDP government, we shall ensure that development gets to the grassroots.
"A PDP government will ensure you get dividends of democracy," he said.