Damilare Okunola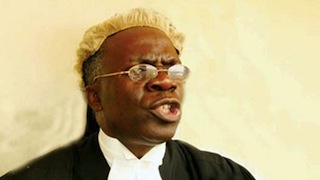 Human rights lawyer, Femi Falana (SAN), has asked Nigerian students to take politicians up on the forthcoming elections.
Falana, who was speaking during a public lecture at the Lagos Polytechnic, LASPOTECH, Ikorodu, Lagos on Tuesday, asked the students to take politicians up on issues rather than just clap for them during their campaign rallies.
While addressing journalists after the lecture, Falana said: "students should vote, get involved and not just clap for the politicians when they seek the students' support. They should interrogate the politicians and ask them questions.
"For those politicians going to the National Assembly, I advise the students to ask them to state their salaries before the elections.
"In all, the election will go on well, I have no doubts about that. There would be crisis here and there, but everything will come out tops."