Harrison Iyoha
The proposed admission of students of National Open University of Nigeria, NOUN to take part in National Youth Service Corps, NYSC, scheme is generating a lot of controversy among its students.
The Vice Chancellor of NOUN, Prof. Ado Tenebe, had during the 4th Convocation Ceremony of the institution in Lagos, declared that NOUN graduates within the age bracket will take part in the mandatory one year programme soon.
He also said that its law graduates may soon gain admission into the Nigerian Law School, following discussions and intervention by eminent Nigerians who believe in the vision and mission of the institution as a full-fledged university.
P.M.NEWS Campus Square findings have now revealed that the students of the institution differ on the subject matter.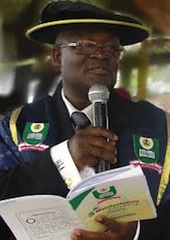 In a survey carried out by our correspondent, some students lauded the latest development while a few others were against it with obvious reasons.
"Me go for NYSC? I am not comfortable with serving a country that cannot guarantee my safety if am posted to the North East. I am not comfortable with serving. If I can avoid it, I will by all means.
"The country is not safe and I cannot risk my life for anything," Marian, a 200 level Computer Science student said.
Amarachi Obasi, a 300 level Accounting student said the news could not have come at a better time for her since she is just a year away from qualifying for service.
She said: "For me, I am really happy. I really wish to go for service, I love the colour of that Khaki they wear and I always dreamt of wearing it someday. And I say big congratulations to my friends studying law as well."
MacJoel Buchi said: "I cannot understand why some people are more anxious of undergoing the NYSC stuff than their studies. Are you in tertiary institution just to enrol in NYSC or to develop yourself to become a better person and useful?
"NYSC is just an activity and not an end or a 'sine qua non' to success. Study very hard and come out with good grades and internalise what you studied because I believe that NYSC certificate cannot give you a job."
Another student, Raji Rauf, exclaimed: "NYSC? It is a good development. This clearly shows that NOUN is getting there. If this comes to reality, those looking at us as dropouts, who had no better choice than NOUN, will now think twice before talking to us the way they do before this latest development.
"And for the law school, at last our friends studying law will be called to the Bar and our school which people out there see as school for people who are not serious would step up.
"It is too bad I will not be going for the NYSC programme because of my age. Nevertheless, I wish every student of NOUN who will be benefiting from this, when the time comes, all the best."
Ojo Oluwatoyosi is already dreaming of having a nice time with friends at the orientation camp which precedes the posting for the youth service scheme.
"I am excited about this latest development. It would be a great experience because I believe the NYSC camp is a place where you get to meet and make new friends.
"A place where we meet with fellow students from diverse institutions. It is going to be splendid. I think it is a good step in the right direction if it works out. I commend those who are taking it up now, rather late than never is what I see here. I am certain that students from my school will benefit more," he stated.
Joseph Lewis, a 400-level Mass Communication student of the institution hopes it is not an act of deception by the school authorities.
According to him, "I hope this is not what we call 'booboo' by our leaders? Exemption letter is okay by me, I  don't want to waste my time and at the end of the month what I get is a paltry N20,000.
"The new development is long overdue and highly welcome by anyone associated with this great institution, especially the students likely to make it in due course for the NYSC.
"We are excited about the prospects of finally joining the youth service fold," said David Adetayo, a 400-level Mass Communication student.
A statement from a representative of the school posted on the institution's Facebook page, read: "To put it in a simple way, NOUN graduates don't go for NYSC for now. Our graduates are given exemption certificates, which is equivalent to discharge certificate.
"Employers ask for either discharge certificate or exemption certificate because it is stated in the constitution for them to ask for one of the two.
"So, no employer will deny you employment because you did not go for NYSC, as far as you have the exemption certificate.
"The institution is still working on making sure that her graduates who are not above the NYSC age limit go for service. But the institution has been encountering some problems to realise this. And so, we ask for your continued patience and prayer."