Funsho Arogundade
To kick-start its New Year, the All Africa Music Awards, AFRIMA, invited collaborators, partners and friends from the creative industry of Nigeria to an evening event tagged "Soiree with AFRIMA" recently at the Amber Residence Hotel, GRA, Ikeja, Lagos.
The soiree also doubled as a forum for the International Committee of AFRIMA to receive feedback from the invitees on 2014 edition of the award ceremony which took place in Lagos, Nigeria, on Saturday, 27 December 2014 in partnership with the African Union Commission, AUC.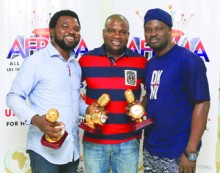 Mike Dada, Executive Producer, AFRIMA, used the opportunity to applaud the selflessness displayed by everyone in contributing to the success of the 2014 edition of the awards ceremony.
He also revealed that the African Union Commission will be hosting all the 2014 awards winners at the headquarters of the AUC in Addis Ababa, Ethiopia at a date to be announced soon.
Kingsley James, AFRIMA Co-Producer & Country Director, Nigeria, lauded the commitment and the turnout of participants while encouraging their full involvement in the success of the 2015 All Africa Music Awards.