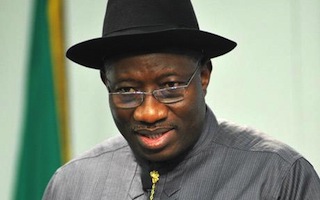 President Goodluck Jonathan on Friday promised to upgrade Maritime Academy of Nigeria (MAN) in Oron in Akwa Ibom to a university if re-elected in next month's general elections.
Jonathan made the pledge in Uyo at the Peoples Democratic Party (PDP) presidential campaign in at the Ibom International Stadium.
He also promised to link the state with railway lines, adding that the development of Ibaka Deep seaport would be a reality.
"In PDP, we believe that Nigeria must move forward; if we are talking about change, let us know what kind of change and what direction," he said.
He assured Akwa Ibom people that he would cooperate with the next administration in the state to give them their due.
Jonathan said that all PDP states had performed creditably, built new airports, new state universities and sports stadia, as obtained in Akwa Ibom.
He therefore urged the people to support PDP massively in the elections.
In his speech, Vice President Mohammed Sambo said that PDP-controlled Federal Government had improved power infrastructure by 120 per cent in the country in the last four years.
Sambo said that the administration built 10 new thermal plants, which were already functioning.
He also said that the administration reduced food importation from N1.1 trillion to N650 billion, adding that the administration spent N1.3 trillion on tertiary education in the country during the period.
"So please my brothers and sisters, you had made the right decision in electing Goodluck Jonathan in 2011.
"Today, Nigeria has the best economy in African continent; our GDP has been growing," he said.
Sambo stated that the job of the president of the country demanded experience and knowledge and that the right person was Jonathan.
In his address, the PDP National Chairman, Alhaji Adamu Mu'azu, urged the people to remain peaceful and pray for Jonathan to succeed in the coming election.
He said that all PDP states were performing well, adding therefore that there was no need to change the ''winning team''.

Load more