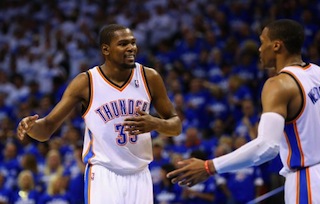 Reigning MVP Kevin Durant and first time all star Klay Thompson were selected to the NBA all-star game as reserve players, the league announced Thursday.
Durant, who was named MVP of the 2012 all-star game and will be appearing in the marquee affair for the sixth consecutive time, has only played in 21 of Oklahoma City's 46 games while dealing with foot and toe injuries.
Golden State Warriors sharpshooter Thompson will be making his first appearance. There are plenty of familiar faces among the Western Conference reserves, including Durant's Thunder teammate Russell Westbrook, NBA scoring leader James Harden, of the Houston Rockets, and Los Angeles Clippers point guard Chris Paul.
But there were also several who were snubbed including Sacramento center DeMarcus Cousins and Portland point guard Damian Lillard.
The game will be held at Madison Square Garden on February 15.
Spurs big man and future Hall of Famer Tim Duncan will be making his 15th appearance in the all-star game, tying him with Kevin Garnett and Shaquille O'Neal for third-most all-time. Portland power forward LaMarcus Aldridge, who has put off thumb surgery, rounds out the West roster.
Harden is expected to be bumped up to the starting lineup in place of injured Los Angeles Lakers star Kobe Bryant, who is sidelined for the rest of the season after undergoing surgery on his shoulder.
There were few surprises among the Eastern Conference reserves, with the first place Atlanta Hawks placing three players in the game for the first time in 35 years.
Point guard Jeff Teague made his first all-star game, forward Paul Millsap his second and centre Al Horford will represent the East for the third time.

Load more