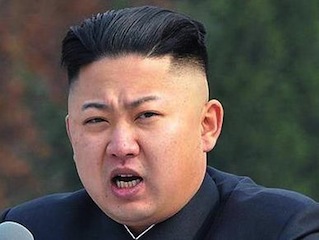 North Korea's leader Kim Jong-Un looks set to take an initial, tentative step onto the global stage with a visit in May to Russia — his first trip abroad since coming to power three years ago.
Kim may not have the physique or bearing of a shy debutante, but Moscow will be his diplomatic "coming out" and minutely scrutinised, especially with other world leaders, including China's Xi Jinping, expected to be there.
The Kremlin confirmed Wednesday that Kim would be among those attending ceremonies to mark the 70th anniversary of the Soviet Union's victory over Nazi Germany in World War II.
Kim's presence would set up some potentially intriguing meet and greets.
As well as Xi, US President Barack Obama and South Korean President Park Geun-Hye have both been invited, but have yet to confirm one way or the other.
Obama is considered an unlikely participant given current tensions with Russia over Ukraine, while Park's office says she is still considering unspecified scheduling conflicts.
A Kim meeting with virtually anyone would be news.
The young leader has received a number of high-ranking Chinese officials in Pyongyang, but the most prominent foreigner he has met in the past three years is the former NBA basketball star, Dennis Rodman.
Formal talks with Vladimir Putin would mark Kim's first summit, after a noted breach of protocol saw him snub the president of Mongolia who visited Pyongyang in 2013.
– Why now? –
Analysts differ over why Kim has delayed any overseas visit for so long.
Some suggest he was observing a traditional three-year mourning period for his father and late leader Kim Jong-Il which ended in December last year.
Others say his relative youth and inexperience required him to grow into his role as supreme leader at home, before venturing abroad.
The North's ruling Kim dynasty has never been big on overseas trips, with the exception of forays to traditional allies Beijing and Moscow.
Kim's grandfather and North Korea's founding leader Kim Il-Sung managed to visit most of the former Eastern Bloc, but the fall of the Berlin Wall and collapse of the Soviet Union left fewer destination options for Kim Jong-Il when he took over in 1994.
Kim Jong-Il also hated flying, and limited his travels to train trips to China and Russia.
Kim's choice of Russia for his foreign debut would be a reflection of warming ties between Pyongyang and Moscow, especially on the trade and economic front.
It would also signal Kim's desire to reduce his country's dependence on China, which remains North Korea's main ally, diplomatic protector and economic buttress.
Xi and Kim have kept their distance since each assumed power and the Chinese leader's first visit as head of state to the Korean peninsula last year was to the capitalist South rather than the North.
While protocol would require formal talk with Putin, it is unclear what interaction, if any, Kim might have with the Chinese president.
– Learning from his grandfather –
Veteran North Korean watcher Andrei Lankov said Kim might be seeking to emulate his grandfather, who played Moscow and Beijing off against each other throughout the 1970s and 80s.
"Kim Il-Sung wrung a lot of concessions from both of them without giving much away in return," said Lankov, a professor at Kookmin University in Seoul.
"It was a masterful lesson in diplomacy, that his grandson must surely have studied," he added.
The same Cold War politics may no longer be in play, but Russia's current estrangement from the West is opening doors to new friends — even isolated states like North Korea.
"And while North Korea is not looking to escape China's influence, it does want to reduce it, especially given Beijing's obvious displeasure with its nuclear weapons programme," Lankov said.
Russia is seeking to expand economic ties with North Korea and is eyeing a project worth about $25 billion (20 billion euros) to overhaul the country's railway network in return for access to mineral resources.
Whether Kim's Moscow visit will herald a flurry of diplomatic activity by the young leader remains to be seen.
"In fact, until we actually see him turn up in Moscow, there's no guarantee he will actually go there at all," Lankov said.