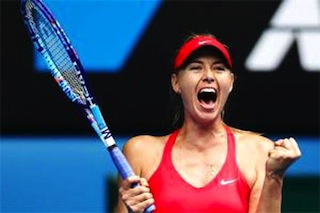 Top seed Serena Williams' coach has dismissed the American's decade-long, 15-0 winning streak against Maria Sharapova as irrelevant ahead of the arch-rivals' blockbuster Australian Open final on Saturday.
The final will pit the world's two best players, both in sizzling form, against one another in a dream Grand Slam decider, although the second seeded Sharapova faces questions over her staggering inability to notch a win over Williams since 2004.
The Russian's overall losing record against Williams is 16-2, including a crushing straight sets win in the 2007 Australian final, and her last 15 meetings with the 18-time Grand Slam champion have ended in defeat.
In addition, Williams has won five titles in five final appearances at Melbourne Park, emerging victorious every time she has reached the decider.
But Williams' coach, Frenchman Patrick Mouratoglou, said such statistics would mean nothing when the adversaries face each other in the Rod Laver Arena, describing Sharapova as a champion in her own right with five majors to her name.
"Every sequence has to end, just ask Nadal," he told AFP, referring to Czech Tomas Berdych's quarter-final victory over Rafael Nadal this week to end a record-equalling 17-match losing streak against the Spanish great.
"Maria Sharapova is changing all the time. This is someone who works hard. She develops her game, she evolves. This is the strength of a champion. Nadal did it all the time, Serena too."
– 'Time of my life' –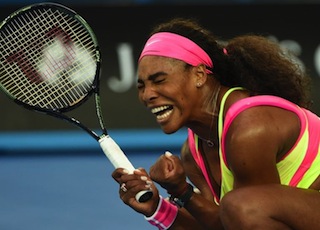 Neither player will lack motivation in the final.
Sharapova, 27, can finally end a decade of pain at Williams' hands in the ninth Grand Slam final of her career.
Williams, who at 33 is the oldest woman to contest an Open-era final in Australia, is contesting her 23rd Slam final.
A win would take her overall tally to 19, surpassing Martina Navratilova and Chris Evert as she chases Steffi Graf's Open-era record of 22.
Both survived scares early in the tournament to hit top form going into the final, with Williams battling a cold and Sharapova staying alive after fending off two match points in the second round.
Williams admitted that facing Sharapova honed her competitive edge, saying she was relishing the chance to renew their rivalry in the only Australian final in a decade to feature the tournament's top two seeds.
"I love playing her, I think it's fun, I love her intensity," she said. "For whatever reason, I just have the time of my time."
Sharapova admitted her record against Williams was "terrible" and said she would be aiming to play it cool and tone down her aggression.
"She's great at making players hit that shot that you don't necessarily have to go for — maybe going for a little too much, going on the line," she said.
Mouratoglou said Williams thrived on the intensity of a Grand Slam final and had the ability to improve her game as her stress levels increased.
"The great champions know to be the best in the most important moments of their careers," he said. "She knows how to raise her game when necessary, to be effective on the important points. Stress makes her better."
Williams cut short a training session after just five minutes on Friday, suffering from a hacking cough, but later returned for a hit-out.
Sharapova said she did not expect her rival's condition to have any bearing on the final, saying she overcame similar snuffles when she won the tite at Roland Garros last year.
"I came into the French Open last year being quite sick. Once you're out there, I don't think you think about anything but what's in front of you," she said.

Load more