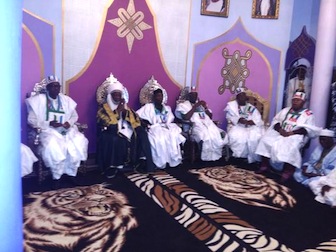 The All Progressives Congress (APC) Presidential Candidate, General Muhammad Buhari (rtd), on Saturday pledged to overhaul the economy of the country for a better Nigeria, if elected President on 14 February.
He made this promise when he paid homage on the Emir of llorin, Alhaji lbrahim Sulu-Gambar, on the sideline of the APC presidential election rally in the state.
Buhari, accompanied by his runing mate, Prof Yemi Osinbajo, expressd sadness on the state of the nation's economy.
He pledged to bring back the lost glory of the country by embarking on activitirs that would give Nigerians a sense of belonging.
Buhari also promised to tackle corruption and unemployment for an egalitarian society to be attained.
The APC presidential candidate solicited the support and prayer from the emir in his bid to better the lots of Nigerians.
Responding, Sulu-Gambari described Buhari 's visit as a home-coming and made a flashback to the Bujari/ldiagbon regime.
He expressed confidence in the ability of Buhari to improve the lots of Nigerians, adding that the rousing reception accorded Buhari on his arrival in llorin was a testimony to his acceptance by the People of Kwara.
The emir later offered a special prayer for the success of Buhari's presidential bid and for peace, unity and progress to reign in the country.
Buhari was also accompanied to the emir's palace by Governor AbdulFatah Ahmed, Senator Bukola Saraki and some top government functionaries, among others.

Load more