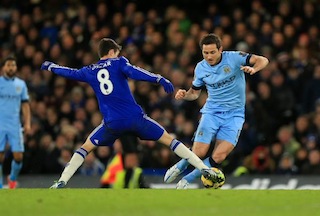 Former Chelsea midfielder Frank Lampard praised the supporters of his old club after he was granted a warm reception on his return to Stamford Bridge with Manchester City on Saturday.
The 36-year-old midfielder joined City on a short-term deal last year after ending his 13-year association with Chelsea, and scored a late equaliser in September's reverse fixture at the Etihad Stadium.
Chelsea's fans chanted "Super Frankie Lampard!" as their former favourite completed a lap of honour after coming on as a late substitute in Saturday's 1-1 draw and he admitted that it had been a moving experience.
"From a personal point of view it was a bit of a strange day, coming back to Stamford Bridge," said Lampard, who is Chelsea's all-time record goal-scorer with 211 goals.
"I was a bit nervous, but I was delighted with the reception from both sets of fans.
"You don't know what kind of reception you'll get, but Chelsea fans showed their class. I'm pleased to come back and see lots of people behind the scenes, and running back out on that pitch."
David Silva equalised for City on the stroke of half-time, four minutes after Loic Remy had put Chelsea ahead from Eden Hazard's cross.
The draw enabled Chelsea to preserve their five-point lead over City at the league summit, but although the defending champions have gone four games without a win in all competitions, Lampard took heart from their performance.
"The last few games we've dropped our standards a bit, but that was more like it," the former England midfielder told Sky Sports.
"It keeps it bubbling. I don't think either team can be too upset with the result."
Chelsea manager Jose Mourinho refused to speak to the media either before or after the match and the home team did not put anyone forward for the post-match press conference.
The Portuguese is believed to be unhappy with the press reaction to Diego Costa's antics during Chelsea's 1-0 win over Liverpool in the League Cup semi-finals on Tuesday.
The Brazil-born Spain striker was given a three-match ban for violent conduct after treading on Liverpool's Emre Can.
Mourinho claimed after the game that there was a media-led "campaign" against his player.