Lukman Akintola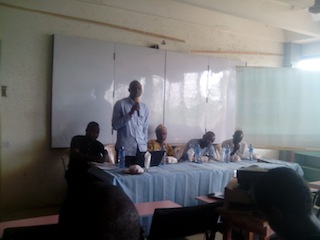 The scholars in Obafemi Awolowo University, Ile-Ife, Osun State have embarked on an intellectual discourse ahead of the 2015 general election.
PM News can report that the symposium, which was organised by International Relations Students Association IRSA, was themed "Nigeria 2015 Election; Hopes and Impediments" and also had in attendance academics from various field of study.
Some of the dignitaries present at the symposium were Prof. Fawole Alade from International Relations department, Prof. Salami from Philosophy department, Dr. Olugbenga Afolabi from Political Science department, Dr. R.I Ako-nai from International Relations department, Dr. Iwebunor Okwechime from International Relations department, Mr Mershack Ofuafor from History department, Mr Armsfree from Transition Monitoring Group TMG and other participants.
Speaking at the symposium was Dr. Olugbenga Afolabi, a lecturer in the department of Political Science explained that the impediments for the forthcoming general election are more than its hopes.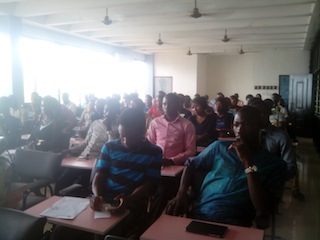 "Nigerian politics lacks morality and that is why immorality is a major impediment to the forthcoming election. Also, the Electoral Management Body which is INEC in Nigeria has lost credibility. Normally, INEC ought to be an Independent body but overtly it remains a dependent body in Nigeria. As at last two weeks, INEC has not received 60 per cent of its allocation from the presidency. These are some of the major impediments to the forthcoming electioneering process" he explained.
He further urged Nigerians to cast their votes with all sincerity in other to move this country to a greater height.
"As for me, the problems are more than the hopes and it is our collective responsibility to make this country a better place. We can make this country a better place through our votes," he urged.
Also commenting on the theme of the symposium was Mr. Mershack Ofuafor of the department of History expressed his discomfort on how Nigerians sell their votes for prizes and seasonal gifts from the Money-guzzling politicians.
"It is clear that our society is morally bankrupt and that accounts for the reason why Nigerians will sell their votes to politicians, who seek nothing but to fill their bank accounts. It is time we make things right in our country by not selling our votes," he said.
The symposium was moderated by Prof. Salami from the department of Philosophy. 


Load more