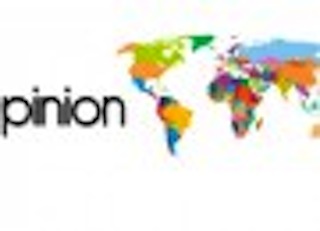 Wilfred Agbanavbare popularly known as Willy Fancy earned his nickname from fellow players and Nigerians in general after he impressed with his unique acrobatic catching techniques while manning the post as a goalkeeper.
His name can never be forgotten. He proudly represented his home and birthplace while playing for his club, New Nigeria Bank of Benin, but also went on to soar with Nigeria's Flying and Super Eagles on the international stage.
Willy Fancy's passion for his sport exponentially paved way for football players and coaches who mentored or modeled after his style.
The soft-spoken Willy symbolizes a child clinging to his or her mother's yearning for comfort and validation. Beyond athletics, his human body of work identifies him as a well-mannered father, brother, friend, and a leader who relentlessly worked through the rigorous passage of life to take care of himself and his family.
His journey was cut short following a fierce battle with esophageal cancer thus reuniting him with his wife who also succumbed to cancer. May his gentle soul rest in peace. The gamut of Willy's playing days can be summarized as nothing but stellar in New Nigeria Bank, Flying and Super Eagles, and in Spain.
On a personal note, I played with Willy in the days when New Nigerian Bank was the epic of Nigeria football glory. As you may recall football players move from club to club, city to city and from one country to another seeking greener pastures. This era of seeking greener pastures created a vacuum of communication among players and friends. This is a true case of Willy who ended up playing in Spain.
The last time we had the opportunity to play together as a team was in 1986 following the return of NNB from a training tour in Brazil when the famous NNB was representing Nigeria in the African Winners' cup tournament.
The last time I met with Willy was at his deathbed in Tampa General Hospital in Florida. My name is Earnest Airhia the man you see in the picture that has gone viral. He whispered his last wish into my ear, "I want to go back to Spain to put things in order." This incident was witnessed by his bosom friend Ms. Agbakwu alias Ngozi an ex Nigerian basketball player who unwaveringly, unconditionally, unselfishly, and personally cared for Willy during his final months in Tampa, Florida. All credit and thanks go to her.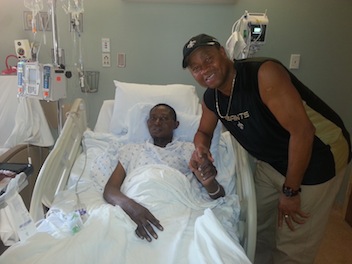 Rebut to Paul Okoku
With all due respect to you (Paul Okoku) and all your accomplices, I am saddened and ashamed of your article in the recent PMNESNIGERIA.COM on 1/30/2015. Your post was nothing but a shame and an insult to most of us who have played football with Wilfred on a different level as well.
Your statement in the aforementioned article depicts hypocrisy at the highest order by way of using Willy's death to enrich yourself. I sincerely believe that you should apologize to all ex-players and to Willy's friends and family members based on your statement in PM News article mentioned above.
You insulted ex-players by saying "You were a professional in every measurement who cared less about status quo; where ex-internationals have been condemned or indicted for taking menial jobs for survival, like driving a cab or selling ice cream, rather, instead of becoming a nuisance or a public charge, you took a job as a porter at the Madrid Barajas Airport, a hard job, for you to provide for your children and not douse yourself in self-pity"
You also insulted Willy's family and friends with your infamous line "to convert the scholarship promised in 1983 by former Nigeria president Alhaji Shehu Shagari to cash reward" as well as when Willy asked ex-players and team mates for financial help that you did your best. I sincerely believe that this is an absolute evidence of your propaganda and hypocrisy for the following reasons:
• You did not contribute a dime or put any money into the account that was set up for Willy while in his deathbed bed in Tampa, USA.
• You did not pay your last respects by visiting him during his final hospitalization.
• You did not call Ms. Ngozi (Willy's bosom friend) directly to ascertain his status or to give financial support rather you were put on a three-way call by another ex-player.
• You have been advertising and pursuing your personal goal utilizing Willy's death for self-aggrandizement and enrichment.
• You were in Atlanta in the US which is just about 8 hours away from where Willy had his surgery but could not visit him rather you have been sending your famous line of converting 1983 scholarship to monetary reward. (see your article on 1/17/2015 and 1/30/2015).
• You have been sending false messages to Nigeria media of your self-righteousness, self-efficacy and self-effectiveness knowing fully well that the Nigeria media are not here in the USA to authenticate the truth of your self-aggrandizement.
I challenge and urge you to research the fact and I stand to be corrected. Do not prove that you did something when you absolutely did nothing when Wilfred Agbanavbare sought for help from friends in his dying bed while taking treatment in Tampa General Hospital in Florida.
Stop sending false messages to Nigeria media and the world in general. The picture of me and Willy represents a firsthand evidence of a true visit and support to our departed friend. Where were you or what did you do when Willy was alive? Please tell us.
Enough is enough of your propaganda; you should go to Nigeria to fight for your right with the Nigeria government in respect of converting 1983 scholarship to monetary reward and let Willy rest in peace.
I also believe that the integrity of a man should be left impeccable in all facet of life or how the person wants it. I also believe that courtesy and decency should be a priority at this time when Willy's family is grieving.
I do understand and believe that you have freedom to express your opinion but so do I. Hence, I am using this medium to ask you to apologize to the bereaved family, ex-players and friends for your exploitation of utilizing Willy's death for your personal agenda. Enough is enough of your propaganda and let Willy's soul rest in peace.
Earnest E. Airhia

Load more