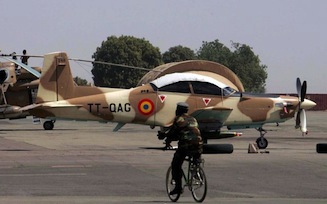 Chadian aircraft struck Boko Haram positions in the Nigerian border town of Gamboru for a second straight day on Sunday, an AFP journalist in a neighbouring town said.
Two military choppers pounded targets in Gamboru for about two hours, setting off loud explosions and sending thick clouds of smoke into the sky, the journalist said from the town of Fotokol about 500 metres (yards) away.
The town in far northeastern Nigeria, on the border with Cameroon, was already strafed by two Chadian fighter jets on Saturday.
Boko Haram overran Gamboru several months ago as part of its campaign to seize territory in the region and create an Islamic state.
The uprising has become a regional crisis. In January, Chad sent a large contingent of troops to Cameroon to help fight incursions by Boko Haram into its territory.
Three Chadian soldiers and 123 Boko Haram fighters were killed in two days of clashes in northern Cameroon earlier this week, according to Chad's military.
A fourth Chadian soldier died of his injuries in hospital, according to the military hospital in Chad's capital N'Djamena.
On Sunday, Chadian and Cameroonian troops travelling in armoured vehicles equipped with artillery had massed in Fotokol.
"Through these air strikes we aim to neutralise the enemy to pave the way for Gamboru to be liberated," a Chadian army officer, who spoke on condition of anonymity, told AFP.

Load more