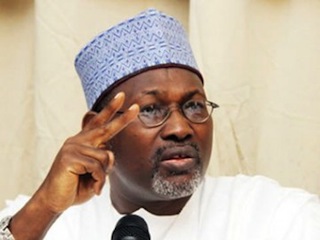 The ECOWAS Election Observation Mission, said on Saturday in Abuja that the Independent National Electoral Commission (INEC) implemented some of its post 2011 general election recommendations.
Okorodudu Eyesan, the Head, ECOWAS Democracy and Good Governance, told newsmen after the mission's closed-door meeting with INEC management that ECOWAS would continue to partner INEC towards a peaceful election.
Eyesan said that ECOWAS would continue to work with INEC to ensure that Nigeria electoral process was successful.
"INEC worked closely on some of the recommendations we have put on the table. Prof. Attahiru Jega is highly respected by ECOWAS, he is one of our distinguished chairs of electoral bodies in the region.
"So, we do believe that those implementations he has put into place will be very productive and helpful to the electoral processes," Eyesan said.
Asked if the commission would monitor elections in the North-East, Eyesan said that the mission discussed the issue with INEC.
"Whatever INEC comes up with; we will get back to the Nigeria population," he told newsmen.
Eyesan said the mission was satisfied with most of the explanations given by INEC during the closed-door meeting.
"We discussed in camera and what we discussed is positive. Our discussions will support the electoral process," he said.
Before the meeting went into closed-door session, the leader of the mission, Mr Francis OKe, said the mission would like INEC to make clarifications on some issues about the 2015 elections.
Oke said the mission had earlier met with some electoral stakeholders before the visit to INEC. "We have met the National Human Rights Commission, United Nations Development Project (UNDP) and European Union and many other stakeholders and we got good confirmations about the elections," he said.
In his welcome address, the Chairman of INEC, prof. Attahiru Jega said although there were challenges in the preparation for the upcoming elections, INEC was on top of the challenges.
Jega said the commission would do its best to conduct credible, free and fair elections.
He, however, urged all stakeholders to contribute their quota towards the success of the election, especially on voter education.
Jega said INEC had been enjoying good relationship on electoral matters with stakeholders, including ECOWAS. "We believe that recommendations from election observers will help the election management body to improve in subsequent elections," Jega said.

Load more