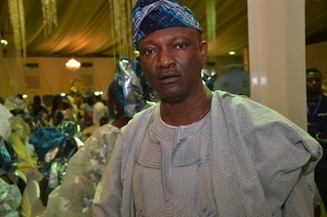 The Lagos state government has insisted that Peoples Democratic Party, governorship candidate in the state, Jimi Agbaje is a tax evader.
In a statement signed by Hakeem Bello, Special Adviser to the governor of Lagos State On Media, he stated that Agbaje's pharmaceutical company defaulted on taxes between 2009 and 2012.
"We consider it necessary to make a response to the rebuttal of Mr. Jimi Agbaje in some newspapers to the assertion by His Excellency, Mr. Babatunde Raji Fashola, SAN, Governor of Lagos State on the subsisting default in Land Use Charge payment of N1,629,064.62 by JayKay Pharmacy Limited on the above mentioned property," the statement said.
The statement added that: "For clarity, the issue at hand has to do with Mr. Jimi Agbaje's business premises at 9, Randle Close, Apapa and not 1, Bombay Crescent, Apapa GRA, for which he was commended."
"The letter issued by the Commissioner of Finance is in respect of 1, Bombay Crescent, Apapa GRA, which was published in Mr. Agbaje's response and is proof of Government's acknowledgement of payments made on that property at 1, Bombay Crescent, Apapa GRA which presumably is his residence."
"The Land Use Charge on the business premises of JK Pharmacy at 9, Randle Close, Apapa, was not paid for 2009, 2010, 2011 and 2012."
"As Governor Fashola acknowledged, payment was made for 2013 and 2014 on 9, Randle Close, Apapa, perhaps in preparation for the election. The payments for 2009 to 2012 remain outstanding and unpaid and those monies go to the Local Governments to fund primary education and primary Healthcare."
According to the statement Agbaje's company owes over one million naira. "The amount due and unpaid is N1,629,064.62. The only way this debt owed to the people of Lagos will go away is if it is paid," the statement said.