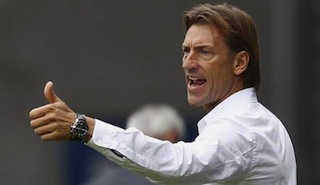 Ivory Coast coach Herve Renard on Sunday hailed his side's 3-1 Africa Cup of Nations quarter-final win over a much-fancied Algeria team in Malabo.
"I think we have beaten the best team in the tournament. We needed to be very well organised and try to counter a team who are very strong individually," said Renard after seeing Manchester City striker Wilfried Bony score twice and Gervinho once in Equatorial Guinea's capital.
Bony bagged a brace either side of a Hilal Soudani leveller for the Algerians, but Gervinho's late goal sealed the Elephants' place in the semi-finals, where they will take on DR Congo on Wednesday.
"We had a spell just before their goal where we were struggling, but we reorganised the team, and with players like Gervinho going forward we will always have the opportunities to make the difference," added Renard.
"I think Christian Gourcuff is absolutely right — in terms of football and ball control they were better than us but we countered them with players like (Max-Alain) Gradel and Gervinho and with the support of Bony.
"In football you can't afford to think you are better than you are. You need to choose the tactics to fit the quality of players at your disposal.
"I was all the more impressed with Algeria watching from the side of the pitch, but we're not going to apologise for winning 3-1.
"When I was with Zambia, the Ivory Coast were better than us but we won on penalties (in the 2012 Cup of Nations final).
"You need to be realistic in football and put in place the tactics to win a game."
On his scoring return to the side after a two-game suspension, Gervinho said: "I am happy to be back.
"I had been waiting for this moment and I am happy to have the confidence of the coach.
"Not everything was perfect but overall it was a good match."