Former Health Minister, Prof. Onyebuchi Chukwu has been summoned to face a disciplinary committee of his party, the Peoples Democratic Party, PDP, in Ebonyi State, southeastern Nigeria.
The Leadership of the party in the state accused him of breaching some section of the party's constitution.
Consequently, he was asked to appear before a disciplinary committee on Tuesday, 3 February, to clear himself of the allegation.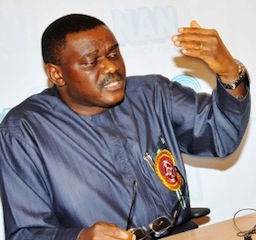 Chukwu contested the Ebonyi State governorship primary of the party in December but lost the ticket to the Deputy Governor of Ebonyi State, Dave Umahi.
Though  Chukwu weas said to be Governor Martin Elechi's consensus candidate,  he was absent at the primary election which took place at the Abakaliki Township Stadium.
The primary was contested by eight aspirants including Umahi, Mr Paul Okorie, Dr. Aja Nwachkwu, Chief Hycinth Ikpo, Senator Paulinus Igwe Nwagu, Chief Michael Ude Udumanta, Senator Offia Nwali and Chukwu.
After the primary Chukwu was said to have published some statements the party in his state said flouted some sections of its constitution.

Load more