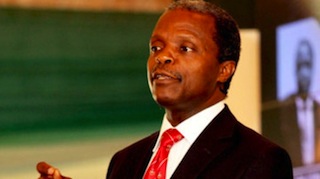 The vice presidential candidate of the All Progressives Congress (APC), Prof. Yemi Osinbajo, said the office of the Vice President under an APC will not be a "spare tyre" .
A statement issued by the APC Presidential Campaign organisation signed by the media director, Alhaji Garba Shehu quoted Osinbajo as saying this at a parley with health care professionals under the auspices of the Health Care Federation of Nigeria on Sunday in Lagos.
Osinbajo said that the party had made adequate plans to ensure that the National Economic Council, which is under the office of the Vice President, was made a vibrant body in line with the provisions of the constitution.
The statement also quoted Osinbajo as saying that an APC government would partner with the private sector for effective healthcare delivery.
He said the party would also ensure the lowering of the cost of funds to provide easy access to capital, to address the crisis in the power sector and expend a minimum of one billion dollars on health insurance.
The APC Vice Presidential candidate said that corruption would be tackled head-on as a first step to tackling the nation's myriad of problems.
"We have to deal with corruption very seriously," he said.
He said that the party's free education policy which would in the first instance be available at primary and secondary school levels, and later extended to tertiary levels but limited to science, technology, engineering, maths and education.

Load more