Professor Charles Soludo, former Central Bank of Nigeria governor believes that the Minister of Finance and Coordinating Minister of the Economy, Dr Ngozi Okonjo-Iweala needs help with basic economic analysis.
Soludo was responding to a statement by Okonjo-Iweala in which she described him as the worst CBN governor of Nigeria. In a long but revealing response, Soludo claimed that N30 trillion was missing under the watch of Okonjo-Iweala.
He noted that: "You are brilliant Madam, but you need serious help. Having spent all your life in the World Bank bureaucracy largely in administration/operations, no one will blame you if your economics has become a bit rusty. There are firebrand Nigerians all over the world to draft to service. It is certainly embarrassing to Nigeria for you to be bothering World Bank economists to help you with most basic economic analysis."
Soludo also latched on the present administration for calling respectable individual names whenever they do not agree with the government. "What name has the government not called President Obasanjo or any person who has dared to disagree with it of late? Anyone who disagrees with the government must either be 'insane' or have a 'character' deficiency or must be 'looking for a job' or 'without honour', or a 'charlatan'.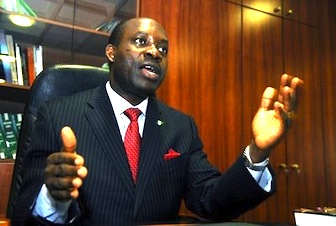 "Yesterday, Sanusi alleged that $20 billion was missing and he was accused of gross financial mismanagement, recklessness and poor governance to the point of being the first governor of central bank to be suspended from office. Today, he is the good one; and for daring to award an "F" grade for our economic performance, Soludo has become the 'worst' and 'without character' or perhaps 'looking for position' (Lol!). Some days ago, a former president was called 'a motor park tout' and 'un-statesmanly' just for disagreeing. This "how dare you criticise us" mind-set of the government is dangerous for our democracy."
He then stated that the present administration was not saving for the future. "Why did we save under Obasanjo but not under Jonathan? Two keywords explain it: leadership and integrity. Governor Amaechi said the governors insisted on sharing the funds because they found out that you were illegally fiddling with the savings."
"So, as Nigerians still wonder, if billions of dollars are now 'missing' under your nose, why should governors trust you to keep their money? Do the states that have taken the federal government to the Supreme Court and refused to save also include the PDP governors—who are in the majority? If so, then it is fatal: even governors of your own party, PDP, do not trust you to keep their money!"
He noted that his assessment of the economy was a honest one rather than a personal jibe. "Since I have known her, out of deep respect, I have never called her by her name: I call her Madam. I must state that I have great pains seeing myself on the opposite side of the table with Madam, in this way. I respect you, Madam, and will always do.
"If you read my article of September 2010 (before you became Minister), the tone and elucidation were as strong as the current one. It is my honest effort to ensure that our choice of leaders is based on rigorous scrutiny of what is on offer. Part of my frustration is that five years after, everything I warned about has come to happen and we are conducting our campaigns as if we are not in crisis. As a concerned Nigerian, I have a duty to speak out again. Regrettably, you have taken it very personal," he said.
He stated that Okonjo needs to explain to Nigerians what happened to the missing funds. "I will show that while you are introducing austerity measures and soon to immiserate the citizens, our public finance is haemorrhaging to the point that estimated over N30 trillion is missing or stolen or unaccounted for, or simply mismanaged— under your watch! We can't go on like this, and I am convinced that an alternative future is possible.
"Can we have a public debate on this alternative future? The issues at stake are too grave to be trivialized through name calling. As I write, the naira exchange rate to the dollar is at N215 (from N158 a few months ago) and unless oil price recovers, this is just the beginning. For the sake of Nigeria, I won't keep quiet anymore!

Load more