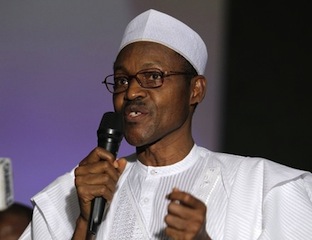 The All Progressives Congress Presidential Campaign Organisation (APCPCO) on Sunday said it would provide 20,000 megawatts (mw) of electricity in the first four years of governance at the center. The party noted that its presidential candidate, General Muhammadu Buhari, if elected will improve the power situation significantly.
The proposed 20,000mw of electricity in four years will surpass Nigeria's consumption level of around 15,000mw as at today.
In a statement issued by Mallam Garba Shehu, the spokesman of APCPCO, it expressed dismay that the federal government under President Goodluck Jonathan led administration has only added 1.400mw to the national grid in four years.
The statement quoted Buhari as stating that while he will not run a witch hunt government, he will not hesitate to deal decisively with cases of impunity and corruption.
According to the statement, Buhari is worried about Nigeria's armed forces as it is today, noting that, despite huge budgetary allocations, the armed forces have failed to effectively deal with manifest security threats, including the Boko Haram terrorism.
"What he said at every given opportunity is that he is keenly interested in knowing what has gone wrong, if any, with the army that he knew. When he has access to them as Commander-in-Chief, he will like to hear from his commanders what problems they are dealing with so that they can be solved," the statement said.
"In a democracy such as ours, all institutions of government, including the armed forces, are accountable. No country can achieve results in its counter-terrorism efforts when there is no transparency in the management of huge resources for the purpose. He (Gen. Buhari) will reinvigorate the armed forces and restore their rapidly evaporating morale," it added.
The APC Campaign Organisation accused the Peoples Democratic Party of wasting billions of naira on non-existent power, managing to add a yearly average of 87 megawatts of electricity, showing a massive failure to substantially raise generation and distribution of electric power despite promises and cash infusion of between $16 billion and $20 billion.
"Nearly 16 years of PDP administration gave this country a miserly addition of 1,400 Mega Watts against the expenditure of more than $16 billion. That translates to 18.5 MW per annum".
"This abysmal power production and distribution, with its attendant socio-economic implications, is the most irresponsible thing a government can do to its people. The appalling lack of capacity to deal with just any problem confronting this country and the lack of vision and commitment to dealing with electricity supply was just one of the myriads of the others begging for attention."
"The only conclusion to draw from this is that the PDP is more interested in feathering the nest of importers of generators than in the wellbeing of Nigerian citizens and their businesses."